Best Of The Caribbean At Pocket-Money Prices
Imagine yourself, cocktail in hand, watching the sun set below the rippling Caribbean…
Here, on the rooftop terrace of your own second home, you have an unspoiled front-row view…
Just minutes away, a pleasant stroll through landscaped gardens, you can sink your toes deep into powder-soft sand…
This lifestyle is real. It's affordable. And it's available to you right now in the Dominican Republic.
Not the Dominican Republic you may be familiar with from commercials and travel magazines. The paradise I'm talking about is far from the over-priced, over-touristed playgrounds of Punta Cana.
Here, on the Samaná Peninsula—already home to thousands of European expats—you can find one-bed apartments within easy walking distance of the beach for less than US$100,000… a three-bedroom penthouse for US$200,000… villas from US$250,000. Or rent your own place… while you consider your options… from US$600 a month.
These prices would be considered affordable in any corner of the world. But just look at what you're getting here in this northeastern corner of the Dominican Republic.
Unbeatable weather. Here, you have summer temperatures and sunshine year-round (averages temperatures are between 73 and 87 degrees Fahrenheit), but with the Caribbean breeze, it doesn't feel intensely hot.
Low cost of living. Forget your idea of Caribbean prices. You can live well here on just US$1,355 a month (including many luxuries that you would have to do without on this same budget back home). Weekly food shopping for two is about US$120—including grocery items and delicious fresh fish, fruit, and vegetables.
The best of nature. Apart from the white sand, swaying palms, and turquoise waters that we all expect from the Caribbean, the Dominican Republic is also home to lush forest, mountains, waterfalls, coral reef, as well as rare bird species… and it's a favorite stopping-off point for migrating humpback whales from January through March (they can often be seen from the shores of Samaná Bay).
Truly friendly people. The locals here aren't just welcoming of new people—they go out of their way to help. Around the town of Las Terrenas, you'll find many European expats who've been living here for decades… and a growing number of U.S. expats. Its strong community spirit is what entices people to stay.
High standard of health care (and cheaper health insurance). Expats in the DR highly rate the personal treatment they receive by medical professionals. We know one expat who's saving US$72,000 a year on his health bills thanks to free treatment at his hospital in Santo Domingo (two hours from Las Terrenas along a new highway).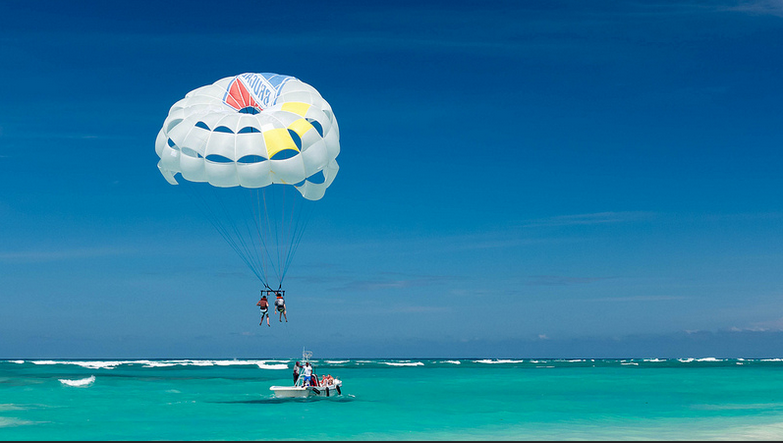 Year-round blue skies and turquoise waters
Cosmopolitan capital. Apart from the natural wonders of the Dominican Republic, you have the city of Santo Domingo at your disposal. After Columbus' arrival in 1492, this city became home to the first cathedral, hospital, customs house, and university in the Americas. Today, as the oldest settlement in the New World, it has plenty of history and culture, diverse dining options, entertainment, and shopping.
Easy, straightforward residency. Once you can prove a minimum monthly income of US$1,500 (plus US$250 for any additional dependants), you can qualify for provisional residency in as little as 45 days.
Generous tax breaks. Acquiring provisional residency immediately offers you many great tax benefits—including tax-free receipt of your pension income and a 50% reduction on your property tax. Of course, lowering your personal tax bill means you have more disposable income to enjoy your new Caribbean lifestyle.
Your dream home at a fraction the cost. It's hard to think of anywhere in the Caribbean that matches the opportunities here to build or buy your dream home—with stunning views, in an uncrowded location—at such unbeatable value. As I mentioned above, you can still buy an apartment for under US$100,000… while a villa at the beach can be yours from US$250,000.
And, there are plenty more benefits to the DR lifestyle that our expats are looking forward to sharing with attendees in Santo Domingo this May 17–19 at our 2017 Live and Invest in the Dominican Republic Conference.
Over these three days, our team will walk you through everything you need to know to start a new life in this beautiful, welcoming country. This is your one and only chance this year to:
Get the full story (warts and all) on living here from our team of experts and expats…
Have the opportunity to have all your questions answered, in person, by professionals who are up to date on the latest laws regarding immigration, buying property, setting up a business, etc…
Soak up the atmosphere of this city (and beyond) in person, and get a picture of what your life could be like if you decided to move here part- or full-time…
The Dominican Republic is hands-down the most affordable Caribbean experience… without the usual crowds. And, this week is your last chance to join us on the ground at the most affordable price we'll offer…
Should you have any questions or need help with your booking, I'm standing by…
Valentine Fouché
Editor, Live and Invest Overseas Confidential