Sizing Up The World's Top Retirement Haven
In just two weeks I'll be headed to Portugal for our annual Live And Invest In Portugal Conference—and I'm very excited to be there for our first in-person Portugal event since pre-Covid.
But before heading south to the Algarve where the conference will be held, I'll be stopping to visit our newest Top Retirement Haven: Comporta.
It wasn't a shock that a destination in Portugal won first place in the Retire Overseas Index again this year—Portugal is our reigning champ, and this country is superlative in so many ways…
Why Portugal Is The Winner
It offers everything a would-be retiree could want. It has a low cost of living and top-notch medical facilities. It's safe, with friendly, often English-speaking locals and welcoming expat communities. And it's naturally beautiful, providing endless opportunities for fun and adventure…
This year, though, it was an all-new Portuguese destination that took the crown—a place we've just discovered for ourselves.
Comporta: The Best Place To Retire In Portugal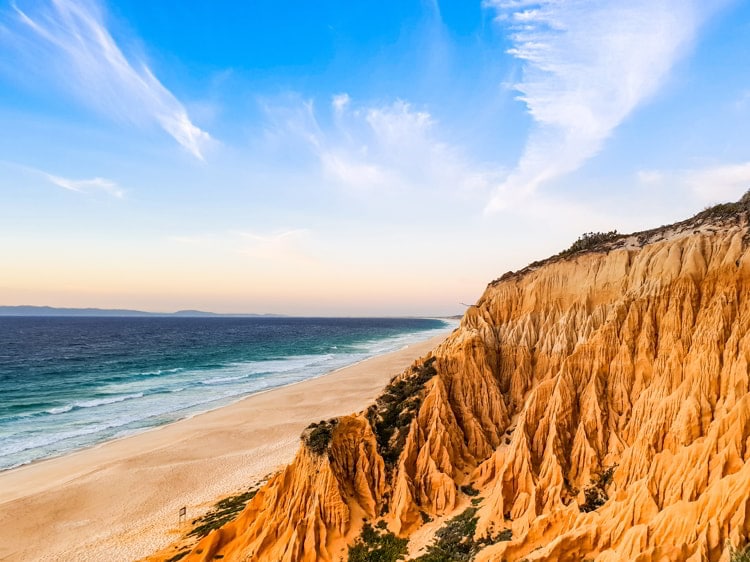 Comporta, an up-and-coming locale found 90 minutes south of Lisbon in the region of Alentejo, has been described as the Hamptons of Europe… It's been compared to Saint-Tropez, Ibiza, and Uruguay's José Ignacio… but Comporta has an appeal all its own.
What Comporta Is Like
It features long expanses of soft, white-gold beaches, frothy Atlantic waters, and rugged scenery: scrabbly sand dunes, pine forests, patches of yellow wildflowers, and so many rice paddies that you might think you're in Southeast Asia.
Comporta has a kind of relaxed sophistication that has some describing it as "hippie chic." People wander barefoot along sandy tracks to the beach or meander on bicycles or in golf buggies. Local artisans sell trendy homemade crafts, like leather bags and hand-woven caftans. Yoga practitioners offer classes in open-air spaces.
There are few new-builds around here. Instead, old buildings are repurposed for modern uses. The Rice Museum, for instance, is housed in an old rice-husking mill from 1952. Most of the high-end homes are restored former fishermen's cottages situated in the rice paddies.
The effect is that Comporta feels like some stylish sandy outpost lost in time. It looks much the same way it did 50 years ago…
The History Of Comporta
Factors of history and geography explain why Comporta hasn't changed much over the years. Until recently, the majority of the villages of Comporta formed part of a massive estate called Herdade da Comporta that dates back to the 12th century.
For many years, the Herdade was used for agriculture—rice production, salt works, fishing, and so on. At some point, the Herdade came under the control of a high-flying Portuguese banking family, known as the Espírito Santos.
In 1991, bits of the estate started being repurposed… Pieces of it were sectioned off and developed into exclusive summer properties for associates of the Espírito Santos—jet-setters and high-net-worth individuals looking for summer residences.
Today, the estate is under new ownership and less sprawling than it once was… yet its legacy lives on. It imposed restrictions on development in the region to reserve space for agriculture and to protect its unique landscape.
Geography also helped shield Comporta from rapid development. To the north of the area is an important nature reserve; its western flank is hemmed in by the Atlantic Ocean; to the east and south is Alentejo, one of the most rugged and sparsely populated of Portugal's regions.
Comporta itself is a region within Alentejo. It spans two municipalities, Alcácer do Sal and Grandola, and comprises 12 villages: Comporta (a village with the same name), Carrasqueira, Possanco, Cambado, Pego, Carvalhal, Brejos da Carragueira, Torre, Melides, Muda, Pinheirinho, and Sesmarias.
It's an hour-and-a-half south of Lisbon, making it quick to access from abroad and placing it in easy reach of one of the world's most well-appointed, cosmopolitan cities. But what people love about Comporta is its slow pace of life and simplicity…
Comporta Today
The lack of development, the exclusivity created by the former Herdade, and the fact that it's mostly unknown to mainstream tourism means that it affords a level of privacy that's hard to find in today's world.
This is part of the reason it has become a haunt for so many celebrities, from Madonna to Nicolas Sarkozy to Christian Louboutin. While it's true that Comporta offers a luxurious lifestyle and comes at a higher price than most Portuguese villages, it's a luxury that's still affordable for retirees.
And while it's beloved for its beaches, Comporta also delivers on diverse and interesting cultural amenities. It has a reputation for being trendy, attracting innovative individuals that push the creativity envelope.
This is reflected in its unique architecture and interior design, cuisine, and artisanship. Celebrated chefs have settled into the area and serve high-end fare at the various restaurants, beach bars, and resorts. They draw on the ancient culinary traditions of the Alentejo region, which mix Roman, Visigoth, and Arab influences…
Alentejo is famous for its black Iberian pigs that are exclusively fed acorns to develop their distinctive flavor. Pork makes its way into many local dishes, as well as seafood, caught daily and sold fresh from fishermen to restaurants. And as the biggest rice producer in the country, it's not surprising that lots of local dishes feature rice, too.
Portugal has one of the oldest wine cultures in the world. There are several wineries established in this agriculture-focused zone, like Brejinho da Costa and Herdade da Comporta (today also operating as a vineyard), where you can sample local wines and learn the secrets of Portuguese viticulture.
While there's no shortage of things to see and do in Comporta, what draws people in is the quiet, close-to-nature lifestyle it provides. And when you need a dose of excitement, Lisbon, one of the most exciting cities in the world, is only an hour-and-a-half's drive away.
As parts of the Algarve teeter towards over-commercialization, people are exploring new areas of this enchanting country. They're drawn to Comporta for its unique charm that mixes the traditional with the modern, the simplistic with the chic.
I can't wait to see it for myself…
Kat Kalashian
Editor, LIOS Confidential