Celebrating The Holidays Around The World
'Twas but a few days before Christmas, and all 'round the world, we creatures were stirring…
Preparing for the big day, spreading joy and good cheer.
I'd love to say that I'm espousing my adopted homeland's holiday traditions… but I have to admit that I just don't have the stamina for it. A typical French Christmas begins at midnight mass on Christmas Eve, which is followed by Christmas dinner. If done right, it could be many courses over several hours, with coffee finally poured around 4 a.m. Once dinner has been dispatched, gifts are opened. Presumably everyone falls asleep around dawn.
The next day is quiet and sleepy, with most in their beds until well past noon. An understated brunch-type meal might come mid-afternoon—possibly the only annual compromise the French make to their normally rigid mealtimes.
A book I recently read by an American who married a Frenchman described her first Christmas with her in-laws. It sounded like a special kind of gastronomic torture to me. She managed to convince her adopted family to accompany her to the movies on Christmas afternoon—a tradition for so many American families—and they grudgingly obliged her. But the French seem to not do much on Christmas Day left to their own inclinations… the presents are opened, the special meal has been had… what's left?
It seems that what remains is a day to indulge in a grasse matinée, literally a fat morning—the wonderful expression that we seem to have no matching idiom for in American English. Brits would call it "a lie in." Americans might say they'd sleep in.
But the lie in and the grasse matinée hint tantalizingly at a much more indulgent affair that has nothing to do with sleep…
Lazing around, the day is given over to rest and relaxation… and perhaps to coddle a guele de bois, literally a wooden mouth (a hangover).
But there's plenty more to a French Christmas than just the dinner, and most of it's just as alien to a North American…
Noël, the French word for Christmas, comes from "les bonnes nouvelles" or "the good news," as in the good news of the coming of Christ.
La bûche de Noël, the yule log and the most classic dessert for this time of year, comes from a Celtic-pagan celebration. People would search for a large chunk of tree at the Winter Solstice, which they would burn as a symbol of the re-birth of the sun.
The Catholic Church didn't eradicate the custom in later years, and a log is still burned in many French homes—particularly in farming communities—from Christmas Eve until New Year in the hope that it will bring good crops and good fortune in the year to come.
Nowadays, though, the log is more commonly represented by the edible Bûche de Noël, which holds center place on French tables during Christmastime dinners. It's made from a Genoese sponge, covered in chocolate buttercream, and scratched with a fork to make it look like a log. The more adventurous cooks add little trees and Christmas figures.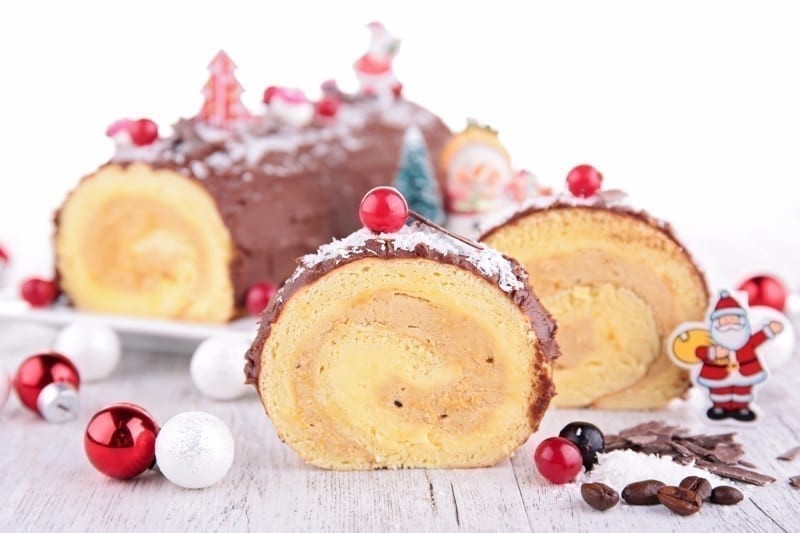 La Galette des Rois is a more recent addition to French Christmases, dating back to the 14th century. It's a flaky pastry circle that's filled with almond cream. In times gone by, a dried bean (une fève) was placed inside the cake.
The person who got the fève was king for the day. The fève has been replaced by all sorts of figurines from tiny kings to cartoon figures.
On Christmas Eve, instead of stockings French kids leave their shoes by the fireplace for Père Noël to fill with gifts and sweets.
What else do we get up to overseas at Christmastime…?
Europe
Spain's Pooping Logs
The Catalans' version of yule logs are called Tió de Nadal (little Christmas log).  Caga Tió, which translates to "pooping log," appear by the fireplace Dec. 8, the Feast of the Immaculate Conception.
Caga Tió has a perky face and a little red hat, a barretina, set at a jaunty angle. He is fed, watered, and covered at night. On Christmas Eve he is whacked like a piñata while the family sings…
On Christmas Eve, families gather 'round their Tió, and, to begin, gently tap him with a stick as they sing:
Caga Tió, Tió de Nadal, no caguis arengades, 
Que són massa salades,
Caga torrons! Que són més bons.
Christmas Log, Christmas Log. Don't poop sardines, 
They are too salty.
Poop turrons (nougat)! They are much better.
The pace and force of hitting pick up, with a final blow from the youngest member of the family to persuade Tió to poop some candy underneath his blanket, which of course he does, usually turron, a nougat-like confection.
The theme is carried through with another special little chap in the Catalan Christmas scene: the caganer, or pooping man. Barretina on his head and back turned to the nativity scene, he's pulling down his trousers to bare his bottom to one and all (and, yes, he comes with a tiny plastic offering). A regular in every Catalan nativity scene.
Even as the Messiah is born, the Catalans believe that nothing should distract man from giving back nourishment to the land on which we depend.
Caganers take on the form of any celebrity these days—if you've been on TV or in a newspaper, you've probably been made into a caganer. When I was in Barcelona a few months ago I bought my own caganer, Rodin's "The Thinker."
The U.K.'s Panto 
Christmas in London features live pantomime shows, called panto. The tradition goes back to the Restoration after Cromwell's Commonwealth was ended by the resumed monarchy. During the Puritan period, Christmas was banned as a "pagan" holiday, and all the fun ended. With the Restoration, theater was allowed again, and one of the things they invented was pantomime for children.
Panto has many conventions. First, the hero, in a Shakespearean reversal of roles, is usually played by a young actress, along with the hero's love interest. Then there is the Dame, an older woman played by a man in drag. In drag, too, are the Good Fairy and the Wicked Witch, who may be part of the story.
There is a chorus, which changes costume often, and sometimes children who dance. Sometimes famous actors and actresses take part. Usually a great mess is made either by cooking or baking something on stage. The audience is engaged in a silly dialogue full of double entendres that the adults hope go over the children's heads.
Panto is becoming more modern these days, with themes now including Chanukah, Bollywood, and TV shows.
France's Late Nights And Oyster Delights
Christmas Eve and Christmas Day, Paris is taken over by oysters.
You see pickup trucks filled with them, and, on the street corners, vendors sitting behind tablesful for sale. All Parisians indulge in the treat, many storing them outside on their windowsills.
We may have French King Henri IV to thank for oysters in Paris in winter… he loved the things. Every day during the winter oyster season he had three dozen brought to him on a wagon from Brittany.
Ireland's Dead Wrens And Icy Dips
Dec. 26, officially St. Stephen's Day in Ireland, is traditionally known as Wren's Day, or, more colloquially, "The Wran."
Dating from the 1800s, early celebrants hunted a real wren, killed it, and tied it to a holly branch or pole to parade around town.
From door to door these "wran boys" went, wren on display, begging for money to bury what was then believed to be an evil bird. The funds were used to hold a dance for the whole town.
Today, no birds are harmed in the celebration of The Wran. A fading tradition, wran boys gather in only a handful of places around the country… including in the town of Dingle, County Kerry, for which Dec. 26 is a major date on the social calendar.
Finally, most notably, on Christmas morning, from beaches, piers, and coves around the country, Irish of all ages gather to immerse themselves in the freezing waters off their shores.
"Swim" is a bit of a misnomer. There is no particular distance that you need to cover, nor any agreed-upon duration you must stay in the water. You simply join the crowd of people running toward and then into the water (cheered on by well-bundled spectators), screaming as their bodies hit the ice-cold sea.
A quick splash of the arms and legs, then back in to shore to dry off, wrap up, and enjoy a hot drink or a shot of whiskey.
Wetsuits have appeared on the scene in recent years, mostly among the kids, but it remains an unspoken rule among the hardy adults taking part: traditional bathing suits only.
The seven years I lived in Ireland, I could never bring myself to participate in this pastime, reserved for only the bravest, most thick-skinned among us… but every one of my Irish friends took the annual plunge and I never heard the end of my faintheartedness…
Colombia's Festival Of Lights
Every December, Medellín, Colombia, is strung with millions of LED lights for its annual Christmas lights festival, named by National Geographic as one of the 10 best in the world. This season, city officials are expecting more than 4 million people to visit my sparkling new hometown.
Where can you find the biggest and best decorations? Each year, Medellín's power and water company, Empresas Públicas de Medellín (EPM), decorates the Medellín River and major roads in the downtown area with millions of colored lights, displays, and themed presentations…
More than 100 other locations also decorate for the season. Smaller barrios decorate their plazas, parks, and churches with different themes each year.
Belize's Posadas And Deer Dances
Las Posadas is a nine-day religious festival leading up to Christmas Day in the westernmost town of Benque Viejo del Carmen.
Commemorating Mary and Joseph's search for lodging in Bethlehem, the festival starts with a procession of religious statues through the streets, accompanied by candles and marimba music.
The procession arrives at a designated house in the town, where, upon finding the doors to the house locked (like the inn in biblical tales), the participants sing and dance to beseech entry.
Once the homeowners relent and welcome the procession, a novena (Catholic prayer ceremony) is held.
Refreshments are offered to the participants and the statues are left in the house for the night.
This procession is held on each of the nine nights from the 15th of December to Christmas Eve, each evening stopping at a different designated home.
The Maya Deer Dance is a popular re-enactment of a Mayan tradition whose original meaning and history have been lost to time.
For the performance, 24 colorfully dressed men play parts that include a joker, a jaguar, a maiden, a crone, a hunter, six deer, two dogs, and some soldiers.
The jaguar kidnaps the maiden and the hunter gives chase, leaving the dogs to chase the deer as the mischievous joker mocks and good-natured chaos and antics ensue.
Ecuador's Paseo Del Niño
For tourists and foreign residents, Cuenca's Christmas Eve Paseo del Niño parade, or Passing of the Child, is a colorful, often bizarre mixture of the sacred and the profane. To locals, it is a time-honored Christian festival of thanksgiving and homage that combines Catholic and indigenous traditions. Everyone agrees that it's a lot of fun.
The eight-hour-plus procession features floats and decorated cars, many festooned with flowers, fruits and vegetables, empty beer cans and liquor bottles, roasted pigs and chickens. There are also bands, dancers and street performers, stilt-walkers, and various Biblical characters. In recent years, the Three Wise Men have made an appearance on Harley Davidsons and Mary and Joseph have cart-wheeled the length of Calle Simón Bolívar. Everywhere there are children dressed in colorful homemade costumes.
The tradition also includes Novenas, nine consecutive nights of song, food, and prayer, celebrated in homes and churches. On Christmas Eve, the Misa del Gallo, or Rooster Mass, is celebrated in the Cathedral and local churches.
Asia
Malaysia's Midnight Countdown
With a small Christian population, it's surprising that Malaysia acknowledges Christmas at all, but Kuala Lumpur especially is very festive, with street decorations and mall santas, gingerbread house displays and big trimmed trees. Some of the decorations are a bit odd—giant mushrooms, for example, or suggestive, scantily clad angels—giving the impression that folks here aren't quite sure just what Christmas should be.
There's no religious significance to the day here, it's just another holiday to celebrate after a long season of holidays: Ramadan and Hari Raya (both Islamic), the Islamic New Year, the (Chinese) Mooncake Festival, Deepavali (Hindu), school holidays… and finally Christmas.
The big thing to do here is visit a hotel Christmas Eve buffet—elaborate feasts, with turkey, roast beef and all the trimmings, plus local specialties.
With dessert come party favors and the New Year's Eve-style countdown to midnight and the official start of Christmas Day. There are dances, visits by Santa, and Christmas skits (again, secular). At midnight, fireworks erupt.
Cambodia's Christmas Décor
In Cambodia some 95% of the population is Buddhist, but locals enjoy Christmas lights, music, colors, and costumes. They sometimes leave Christmas decorations up throughout the year. Christmas connotes festive fun all over Southeast Asia.
Hotels put Christmas trees in lobbies, clothing stores sell Santa Claus outfits and Christmas dresses. Neil's 24-hour Mini Mart welcomes customers with colored, tree-shaped tinsel on the entry door. The corner restaurant, on "tourist road central," promotes a holiday turkey dinner: US$12 for a turkey dinner, add a wedge of pie for four bucks more. The place serves up turkey now and every day until Christmas.
Cambodia hasn't been opened to Westerners for long, but many expats have decided to settle here in that short time. Those expats and a few Catholic locals might buy candy or other treats for kids.
Thailand's Holiday Hodgepodge
A majority Buddhist country, Thais don't celebrate the religious aspect of Christmas, but they love the festive fun nonetheless.
Thais tend to wrap all foreign holidays into one. The results can be confusing. Apparently, for example, devil horns that light up are proper attire for all foreign holidays, including Christmas and St. Valentine's Day.
Easily the most entertaining time of year is Christmas. About mid-November we start seeing Santa, candy canes, and reindeer… a lot of reindeer. The Thai people are really taken with the flying deer concept.
But, again, they mash things together and add their own spin.
You might hear Christmas carols in a mall, for example, and find the choir to be made up of lady-boys from the local transgender cabaret show in full costume.
You'll hear carols nonstop on every loudspeaker in Bangkok in December, some in English, some in Thai, and every shop, restaurant, and hotel is dazzlingly decorated for the season. Everyone loves Christmas presents; you can bet Thai children want their parents to "Christmas" them. The way Thais look at it, "Christmas" is a verb.
Kat Kalashian
Editor, LIOS Confidential