Last Call To Join Us In The Land Of Eternal Spring
Following two events in Panama City, I'm looking forward to traveling to Medellín this month for our 2017 Live and Invest in Colombia Conference April 19–21.
For me, Medellín is a refreshing break from the fast pace (and higher humidity) of Panama City. It's a city that's noticeably clean and green… where it's comfortable to sit out in the fresh air and enjoy the local cafés and parks.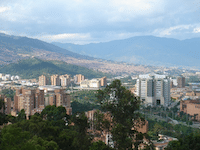 Clean and green—a pleasant city to hang out
Medellín's springlike climate is a big draw for expats. Darren and Wendy Howarter from Illinois were relieved to trade months of snow for a climate that allows them to sit outdoors year round. But weather alone isn't enough reason to choose your new home overseas. And Medellín has a lot more to offer…
When full-time expats Steve and Patricia Turney spoke at our event last year, they said it was the Colombian people that sealed the deal for them. And not just their neighbors on the streets. Steve told us how the doctors and dentists are just "ordinary guys" on your level:
"After we'd had checkups with cleaning—which, by the way, cost only US$35 for us both—the dentist mentioned one of his favorite restaurants that he thought we might enjoy…
"Before we left, he called the restaurant for us and made a lunch reservation. Can you imagine your dentist inContinue reading→