Explore the Mayan ruins of Tulum on this half-day tour on the afternoon of Sept. 28.
Step into history when visiting the first Mayan city discovered by Spanish conquers in the 16th Century. This is the only walled structure built on the shores of the Caribbean Sea and one of the best preserved coastal Mayan sites.
It is believed that this Maya site was formerly known by the name Zama, meaning city of Dawn, because it faces the sunrise.
One of the most well-known spots, the building referred as el Castillo, served as a light house and was point of reference for leading sailors.
After venturing through time, spend free time at the beach and be back to your hotel by dinner.
Cost of attendance: US$57 per person
This tour includes: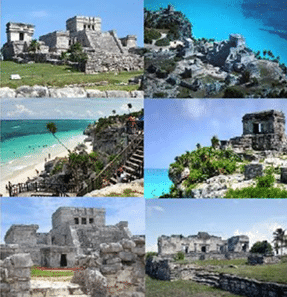 Air-conditioned motor coach
Admission at the Archaeological site
Professional bilingual guides
Insurance
Itinerary:
Pick up from the comfort of your hotel at 13:30hrs
Depart from Tulum site at 17:00hrs
What to take along for tour:
Comfortable clothing
Comfortable shoes, hat, and sunglasses
Swimming wear and towel
Sunscreen
Bug spray
Change of clothing
Notes:
There is a fee at the Mayan Ruins of 45 pesos, or US$4, for the use of video cameras (regular cameras are not of charge).
This tour is highly recommended for everyone (kids & adults).
How To Sign Up:
Please contact tour director Ava-Gay Simpson directly at asimpson@coming2.com and use subject line: Live and Invest Overseas Conference.
Should you be interested in other tours in the region, please contact Ava-Gay Simpson, as well, at asimpson@coming2.com.