This Is Portugal… Where The West Meets Paradise
My husband Dave and I have been living here in Portugal's Algarve for more than 10 years now, and still every day brings new delights and new things to enjoy… new moments that make you stop, relax, and enjoy the Algarve's slower pace of life and its fabulous landscape and people.
This wonderful region is one of the most popular tourist destinations in Europe… and for good reason.
Its name derives from the Arabic "Al-Gharb," meaning "The West"… though in fact the Algarve's long coast faces mostly south.
And long is the word to describe it. The Algarve coastline is approximately 96 miles in length and covers an area of about 2,089 square miles. Its highest point is Fóia, in the Monchique, about 3,000 feet above sea level.
Within these boundaries is a host of delights and surprises.
Perfect Weather And Beautiful Beaches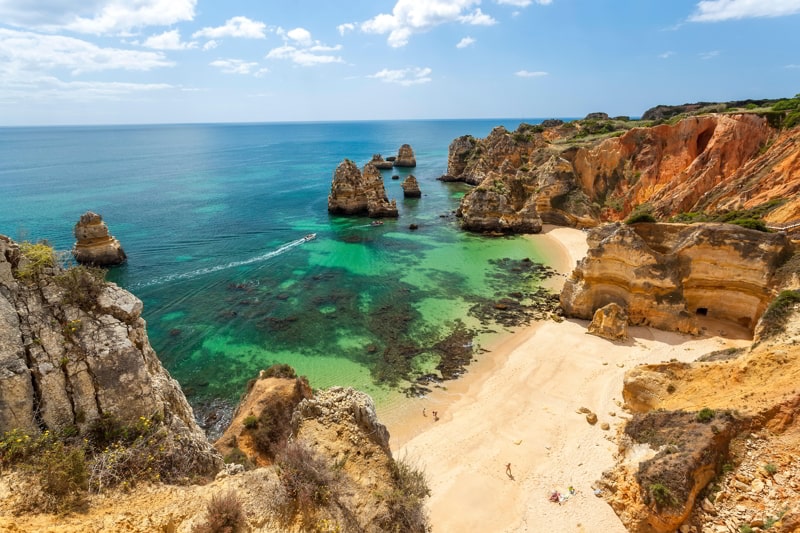 The weather is gorgeous, with more than 300 days of sunshine a year. Even in winter it is possible some days to be comfortable wearing shorts and a T-shirt, and even in the height of summer, when temperatures often exceed 95 degrees Fahrenheit, you can find a shady spot… or maybe just bask in the warmth of midday and then enjoy a sneaky siesta in the afternoon.
Here in the Algarve we have some of the world's most beautiful beaches. You can choose from big tourist-focused resorts that cater to holidaymakers… or you can explore some of the more isolated and deserted coves and small beaches that dot our 100 miles of golden coast. There are limestone caves and grottoes only reachable by boat and tiny inlets where fishermen ply their trades while perched precariously on the edges of the cliffs.
Beaches on the west coast are perfect for surfing and beach-combing, and all along are small fishing villages where brightly painted boats bob just offshore. Restaurants that serve just-pulled-from-the-sea grilled fish with a chilled glass of wine or beer are a real treat at the end of a long day exploring the narrow, cobbled streets that all seem to wind their way up to the village church.
Moorish influences still prevail, from the ornate decorative chimney pots to the magnificent castles, churches, and ninth-century Roman remains that are scattered across the region. The city of Silves is a particular favorite of mine, with its fabulous castle and old Roman walls still intact. The views from the top of the castle are spectacular.
The Food…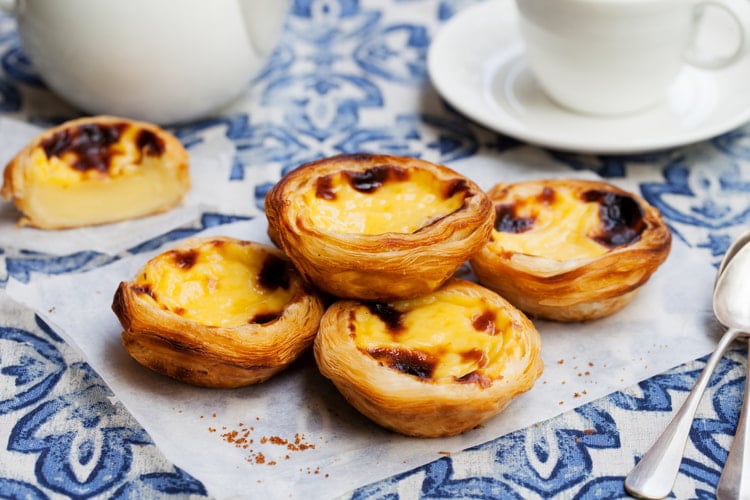 The food in the Algarve is varied yet simple and always fresh…
Fresh fish from the sea… of course! Yummy puddings, pastries, and the famous pastel de nata… all irresistible. Plus figs, pork, clams, cataplanas, "porco preto," wild boar, salty "presunto" cured ham, local oranges, almonds, the rather lethal Aguardente de Medronho, and the famous piri-piri chicken…
And the Portuguese are so proud of their coffee. I am sure the Algarve would grind to a halt if the coffee shops ever closed.
There are so many restaurants where you can sit back, watch the sun set, and enjoy a sumptuous yet relaxed meal without anyone rushing you. In the local places you almost have to force them to send out the bill at the end of the evening… otherwise you feel as though you could linger all night if you wanted to. And, in some of these places, it's possible to have a fabulous three-course meal with drinks for less than 15 euros a head.
There's Always Something You Can Do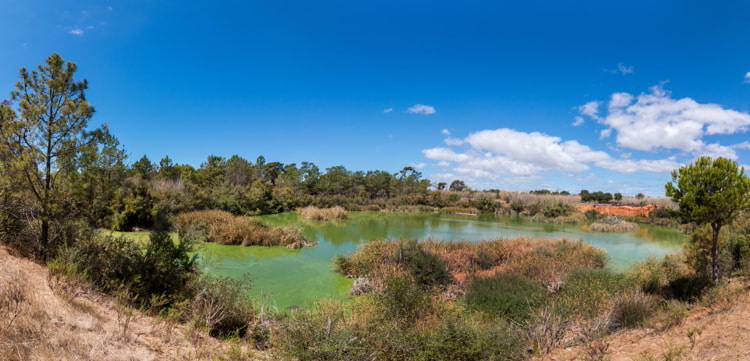 If you're a nature-lover, you'll appreciate our beautiful nature reserve, the Ria Formosa lagoon, which is more than 65 square miles and home to hundreds of different birds. The coastal lagoon area was recently elected as one of the seven Natural Wonders of Portugal.
The Algarve is also a golfer's paradise boasting some of Europe's finest championship golf courses, all set in magnificent surroundings and many with breathtaking views of the coastline.
For holidaymakers there are spa resorts, luxury five-star hotels, villas, and small fishing cottages to rent, catering to all budgets. You can get away from it all and stay in a yurt in the countryside or opt for a luxury-level spa holiday. Day trips and tours are easy to book, from a simple pleasure boat ride along the river to a luxury cruise-liner voyage with champagne at sunset.
If you're in the mood to party, the Algarve's vibrant nightlife won't disappoint. There are pubs and clubs, particularly around the Vilamoura and Albufeira regions.
If you're traveling with family, you've got theme parks, water parks, zoos… and in this part of the world, family is the most important thing everywhere you go. Children are always welcome.
The Algarve has an abundance of quaint shops, stalls, and markets where you can buy locally produced goods, as well as purpose-built shopping centers with global designer merchandise and exclusive boutiques. Locally made products worth shopping for include the hand-painted tiles from Porches, cork goods (including handbags, shoes, and even umbrellas), and of course Portuguese wine.
And throughout the region are the gentle, kind, welcoming Portuguese people, who seem to march to a different drummer…
In this part of the world there is always time to sit in the sun, to greet your friends, to pass the time of day on a park bench or in a coffee shop, and to reflect on an era long forgotten in most of the rest of the world.
The Portuguese are polite, reserved, proud of their culture and heritage, and always willing to help.
This is the Algarve… where the West meets paradise.
Alyson Sheldrake
Portugal Insider