This Is How You'll Turn Your Life Around Forever
Registration for our 2017 Offshore Wealth Summit is officially open.
And, the great news is… it's coming around earlier this year.
Come June 19, our heaviest hitters in the offshore world will be in the room to share with you everything you need to know to protect and grow your wealth—and enjoy more freedom—now and in the future.
If you ever feel like life in the United States is no longer in keeping with your own set of values…
That you're paying out so much in taxes that you're barely able to put anything aside for your future…
That you'll never be able to afford to retire…
Or that you're not providing for your family in the way that you hoped…
Then don't miss our 2017 Offshore Wealth Summit, this June 19–21, in Panama City, Panama. Over these three days, our ultimate aim is to arm you with all the knowledge you need to put yourself back in the driver's seat and take control over what's rightfully yours. That way, you can plan a more prosperous future for you and your loved ones.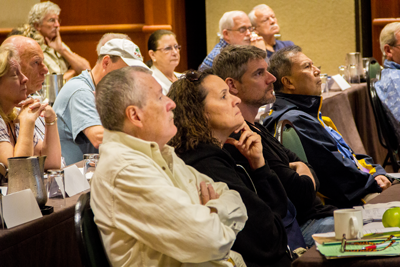 Our captive audience at the 2016 Offshore Wealth Summit
More to the point, we want to help you focus on your own plans. Everybody has different preferences about where in the world they'd like to spend time (whether part- or full-time)… as well as circumstances that will affect how you approach residency and citizenship, buy and hold real estate, bank, do business, and otherwise invest your wealth. So, as well as walking you through all your options in our presentations and panel discussions, we'll allow plenty of time for you to ask questions and chat with our experts—those who represent the gold standard in the offshore and asset protection world and can provide you with the support you'll need to move forward.
Join our offshore team in Panama City, this June 19–21, and finally find out how to:
Drastically reduce your tax obligations or even live income-tax free…
Discover the five easiest places to obtain offshore residency, often without having to even live there…
Get to know the world's best havens for bank privacy and legal offshore structures…
Discover three ways to profit from the best international real estate investment opportunities…
Learn the value of holding physical precious metals offshore: something that can be legally non-reportable to the IRS…
Learn the many benefits of incorporating and doing business in an offshore location…
Discover six easy ways to diversify safely outside the U.S. dollar to obtain a truly diversified portfolio (and never worry about a declining U.S. dollar again)…
Rediscover the true privacy that existed in the United States 50 years ago.
Our Offshore Wealth Summit is always a sell-out event. And, because we have limited capacity, I'm giving you early notice—ahead of our main readership—so you can secure a complimentary VIP seat.
Read the full details—and reserve your VIP spot—here. (Remember to use Coupon Code OFFCONFIDENTIAL to save an extra US$50… that's on top of the Early Bird Discount and any other reader discounts you may qualify for. Again, full details here.)
As always, you may book with us over the phone (at the details below) or contact us with any queries.
Valentine Fouché