Sunny, Classy, And Affordable Europe All In One Spot
As we prepare for our virtual Live and Invest in Portugal event and I'm simultaneously working to finish our newest product—a "36 Days To Your New Life In Europe" course—I'm reminded why we love Portugal so dearly…
I've spent the last few days writing up the Portugal lessons for the course (it's one of several countries we cover in detail), and it's remarkable just how perfect Portugal is on paper when it comes to considering a move overseas…
Portugal, An Expat Paradise
Portugal is home to Europe's best beaches, 1,115 miles of coastline, and 300 days a year (3,300 hours) of sunny skies… but to think of this special place as merely a beach getaway is a mistake…
Portugal's borders date back to 1139 B.C., officially making it the oldest country in the Old World. To state the obvious, that's thousands of years—more history has happened here than most places in the world. The upside of all of this history is that you'll never run out of ancient places to discover…
The entire country is a cross between a national park, a museum, and a coastal resort—all with the constant, ever-present charm of the Old World.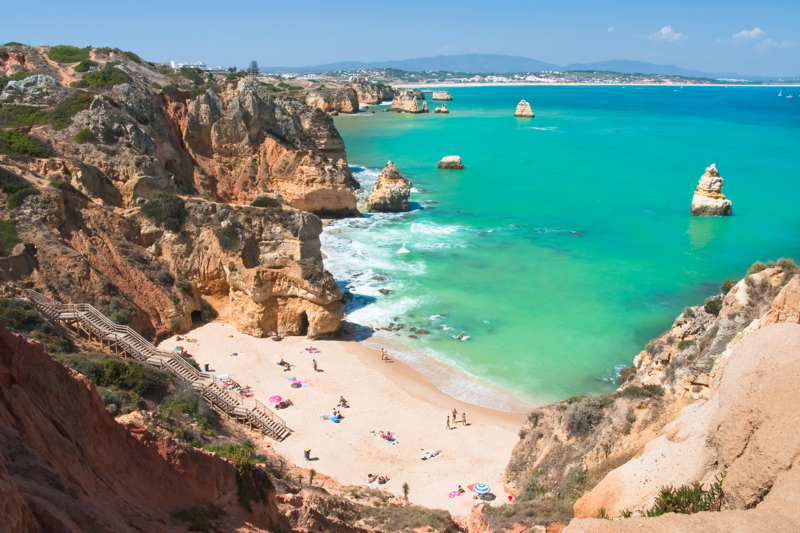 Sure, if you wanted, you could spend all of your time relaxing and enjoying the beach, but there's so much more than summer fun to be had here…
In the mornings, you could explore the caves and coves of the world's most fascinating coast…
Hike the Roman walls and medieval castles around noon…
Play a round of golf at one of the world's best golf courses, located right here…
Or ride a rickety tram up narrow cobblestone streets to get to the Castelo de São Jorge overlooking the ancient city of Lisbon…
And, to cap it all off, you could enjoy dinner at a vineyard where the local chef has put together a tasting menu.
You can indulge in any interest you could imagine here, from boating, diving, and hiking… to museum and gallery afternoons… to regular nights out at the theater.
And all this comes as a bargain price. One couple we know is living in a villa in a charming town, close to the beach, for about US$1,600 a month.
Fresh fish is always available, Wi-Fi is fast, and everywhere, the people are friendly. On top of all this, it's safe…
In fact, Portugal is one of the most peaceful nations on Earth. It came in as the third safest country in the world in the 2019 Global Peace Index. If you're wondering, the first and second places are Iceland and New Zealand. Both are beautiful and worthwhile places, but neither place is easy for residency… especially if you're retired.
Portugal, on the other hand, boasts a welcoming list of tax incentives and easy-to-get visas for foreigners. In other words, Portugal rolls out the welcome mat.
An estimated 50,000 of Portugal's more than 100,000 resident foreigners are reportedly British. The fact that a near majority of expats are Anglophones means meeting people is easy—and also means that most Portuguese speak English pretty well (as a side note, Portugal's schoolchildren also spend nine years studying English). No matter where in the country you settle, you're sure to be able to plug into a strong network of English-speaking expats.
Plus, the Portuguese are extremely welcoming to expats. If you get lost, they'll point you in the right direction. And, if you're about to spend 6 euros on a glass of wine, don't be surprised if they tell you where to get it for half the price.
The infrastructure is top-notch. The health care is world-class… and a fraction of the cost of care in North America. Become a resident, and health care is free (no kidding).
Retirement income is not taxed. Various other incomes are not taxed either…
And property can be an absolute bargain, both to buy and to rent.
It's little wonder that Portugal has come out top of our virtual Live and Invest in Portugal event for six years running, and I don't expect it to lose its ranking anytime soon.
I've only barely scratched the surface of all that Portugal has to offer here.
The Live and Invest in Portugal Virtual Conference
If you're interested in finding out more about what it's like to spend extended time here… and the steps you'll need to take to make your move… be sure to join us for this year's Live and Invest in Portugal Virtual Conference…
We opened doors on registration to all readers last week, and as expected, seats are filling up fast…
If you haven't attended one of our virtual conferences yet, you should know that they include live high-definition video sessions, chat rooms, and lots of personal interaction—so you can get as many answers as you want for the questions that matter to you. We'll send you all the presentation slides (and bonus material), too, so there's no note-taking required!
This Portugal event takes place April 14–16. Over these three days, we're going to take you on a virtual tour around the country, while offering up insights (both the upsides and the downsides) from local experts and expats currently living and investing here.
The first 50 readers to sign themselves up will get a giant US$200 discount. This discount is given on a first-come, first-served basis. As I mentioned, seats are disappearing fast, so be sure to act as soon as possible to secure the discount…
As a LIOS Confidential reader, you also qualify for an additional discount of US$50. Simply use the Coupon Code PORTUGAL50 during the online registration process to claim this exclusive discount.
As always, if you have any queries on the event—or would like help with your booking—you can reach out to our Events team, toll-free from North America, at 1-888-546-5169 or drop us a line with any queries.
Kat Kalashian
Editor, Live and Invest Overseas Confidential