Arriving In Europe's Top Retirement Haven For Sun, Seafood, Spa, And Intel
Today I flew to Faro, final destination Carvoeiro, Portugal, where I'll be joined by a couple hundred Portugal fans for our annual Live And Invest In Portugal Conference.
This much anticipated event falls on the week of my birthday every year, so I always try to take advantage and roll a few extra recreational days into the work trip… it's going to be a fun week down here in the Algarve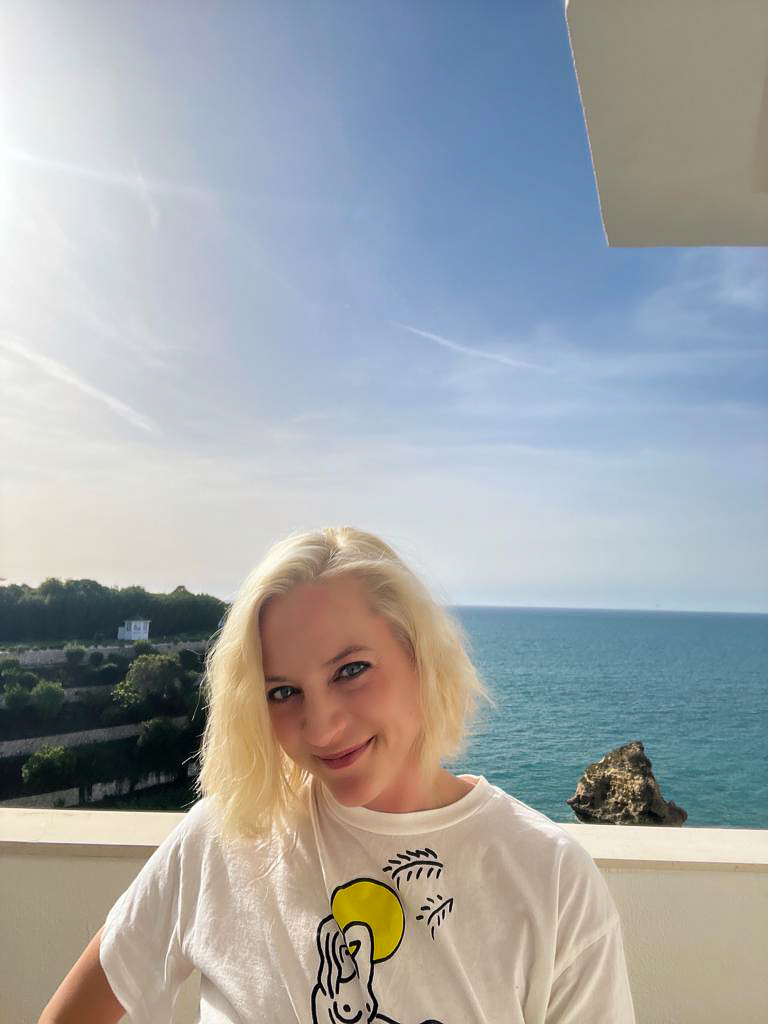 A few years ago, right before we had our daughter, my husband Harry and I planned a couple of weeks in Portugal around the conference.
We spent a few days in a chic hotel in Lisbon, touring, sightseeing, and eating our way through the cosmopolitan, so-called "White City."
I love discovering new cities, especially those that are walkable and those with easy-enough-to-use public transportation systems. We took buses across the city and back again to check every museum, monument, park, and notable sight off my list (I love a good checklist—never travel without one!).
If you visit, I recommend the Gulbenkian Museum. The collection was formerly the private collection of oil magnate Calouste Gulbenkian, who collected works from antiquity all the way through to the modern. Born in Turkey, his interests didn't only lie with Western works, but equally with Islamic treasures and pieces from the Near East, Egypt, Mesopotamia, Persia, and Armenia. It's an impressive yet manageable museum, and the collection seems to span all of human artistry.
But I digress…
From Lisbon, we headed south to the Algarve region to enjoy the best of the country's beaches and meet our conference attendees.
Located at Europe's westernmost tip and boasting 100 miles of Atlantic coastline, Algarve is often called Europe's most famous secret. This region boasts Europe's best beaches, golf courses, some of Europe's friendliest folk, and a low cost of living.
Carvoeiro, where we hold our conference every year, is known for its picturesque beach and is particularly important, along with Ferragudo, to the country's seafood and fish-preserves industries. Tinned fish has something of a revered status here. Tinned sardines, trout, and anchovies are practically a national treasure.
Comur—the national cannery chain—has shops all over Portugal (as well a factory museum) that manage to turn a mundane product into something weirdly fun and entertaining.
The villages of Estômbar and Porches were important centers in the Islamic and Medieval periods, and Porches is today the center of the region's pottery tradition (I came back with several special pieces to remind me of that first trip with Harry).
The Algarve's coast is punctuated by jagged rock formations, lagoons, and extensive sandy beaches—at least 85 of which have earned the coveted Blue Flag award from the European Blue Flag Association for years (out of a total of 350+ flags for the entire country). The iconic Blue Flag is one of the world's most recognized eco-labels awarded to beaches (and marinas) and is a coveted title to hold in Europe.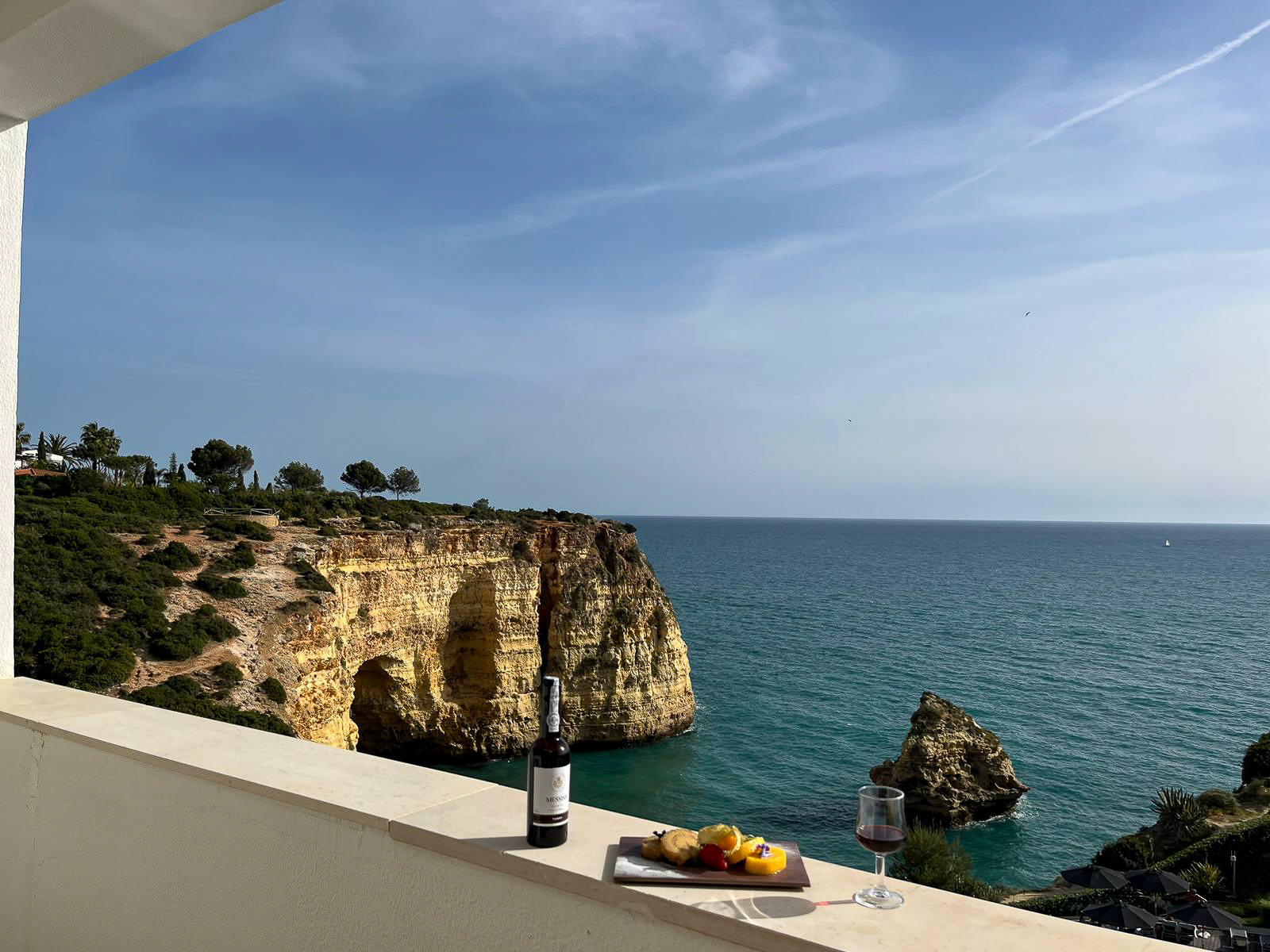 While the beaches and the azure waters off them are magnificent and well worth your time, you don't even need to get your feet wet to enjoy my favorite part of Algarve's beaches: its dramatic cliffs.
Hard to imagine and only graspable when seen in person, I struggle to find the words to describe their majesty and beauty. I get bored watching waves, but I could (and did) sit for hours just exploring by eye these alien-looking cliffsides.
Perhaps my favorite discovery in Carvoeiro was its winding, clifftop boardwalk. At just over half a kilometer, it's not a long walk, but you could spend hours meandering from it down to the cliffs and coast and back again. Along the way there's a famous rock formation that earned the nickname "Doll House," a church, and some small restaurants (with excellent wine and seafood).
If I lived there full-time, it'd be hard not to spend all day every day at the beach… swimming, sunning, and boating…
And whether you're in the north or the south, the seafood here will impress. Clams, prawns, oysters, cod—they're all same-day fresh, tasty, and served simply, often grilled.
For all these reasons and more, Portugal's Algarve has been a top retirement destination for more than 100,000 resident expatriates from around the world for decades already. The mostly British expats are easy to find and make friends with, and they've also paved the way for fellow English speakers. Many Portuguese speak English thanks to the influx of Brits since the 1960s, so it's not hard to strike up conversation with locals or expats alike.
Last year, Harry and I returned to Portugal again, this time as a family, with two-year old Ariadne in tow. We spent the night in Setúbal, just to the south of Lisbon, on our way down to the Algarve.
Casa Palmela, a boutique hotel and vineyard on a historic property, served a meal that rivaled tasting menus in Paris and was at least half the price. The chef came out to greet us, offer us an aperitif, and when the plates arrived, he followed them to explain each ingredient in each dish—from which river the fish had been caught, from which region the lamb hailed, and which of the salads, vegetables, and garnishes came from the hotel's own garden.
From there we explored Comporta, about an hour and a half south of Lisbon, on the way to Algarve. Comporta, 2022's #1 Overseas Retirement Haven, is an up-and-coming locale in the region of Alentejo. It's been described as the Hamptons of Europe… compared to Saint-Tropez, Ibiza, and Uruguay's Jose´ Ignacio… but Comporta has an appeal all its own.
It features long expanses of soft, white-gold beaches, frothy Atlantic waters, and rugged scenery: scrabbly sand dunes, pine forests, patches of yellow wildflowers, and so many rice paddies that you might think you're in Southeast Asia.
Comporta has a kind of relaxed sophistication that has some describing it as "hippie chic." People wander barefoot along sandy tracks to the beach or meander on bicycles or in golf buggies. Local artisans sell trendy homemade crafts, like leather bags and hand-woven caftans. Yoga practitioners offer classes in open-air spaces.
This year, I'm going solo in Algarve, and I'm looking forward to finding out what's new these days…
I'll be tuning in along with a couple hundred attendees starting Wednesday to hear from our expats and experts on the ground about the state of Portugal today.
There's nothing more valuable than getting news straight from the horse's mouth, and that's exactly what we like to deliver at our Live And Invest Conferences.
There are a few things, though, that I know haven't changed down in Portugal…
Portugal is still a safe haven—currently the fourth-safest country in the world…
It's a friendly country. Plus, in the Algarve, at least, English is widely spoken… allowing you to make connections more easily…
Ease of travel and connectivity. Faro—the Algarve's airport—is well connected to Northern Europe. And, from Lisbon, you can connect to almost anywhere in the world…
Low cost of living. The cost of living in Portugal is one of the cheapest in Europe… especially for Old Europe…
Happy trails,



Kat Kalashian
Editor, LIOS Confidential