Head Here For Old World Charm And Spectacular Beaches
For my birthday a couple of years back, I planned a week-long trip to Portugal, which included a few days taking part in our 2019 Live and Invest in Portugal Conference…
Before getting to work there, though, Harry and I spent a few days in a chic hotel in Lisbon, touring, sightseeing, and eating our way through the cosmopolitan city.
I love discovering new cities, especially those that are walkable—at least in parts—and those with easy-enough-to-use public transportation systems. We took buses across the city and back again to check every museum, monument, park, and notable sight off my list (I love a good checklist—never travel without one!).
If you visit, I highly recommend the Gulbenkian Museum. The collection was formerly the private collection of oil magnate Calouste Gulbenkian, who collected works from antiquity all the way through to the modern. Born in Turkey, his interests didn't only lie with Western works, but equally with Islamic treasures and pieces from the Near East, Egypt, Mesopotamia, Persia, and Armenia. It's an impressive yet manageable museum, and the collection seems to span all of human artistry.
But I digress…
From Lisbon, we headed south to the Algarve region to enjoy the best of the country's beaches and meet our conference attendees.
Located at Europe's westernmost tip and boasting 100 miles of Atlantic coastline, Algarve is often called Europe's most famous secret. This region boasts Europe's best beaches, golf courses, some of Europe's friendliest folk, and Western Europe's lowest cost of living. It's also Europe's newest tax haven.
Silves and Lagoa are two top options in the region that offer history, Old World charm, and spectacular beaches.
Silves, nestled in verdant valleys on the banks of the Arade River and surrounded by fields of citrus, offers a warm microclimate. It's like summertime all year long, and when we were passing through in April, it was heavenly. Not too hot, not too cold.
In addition to orange and lemon trees, all around are the olive, carob, and fig trees the region is also known for. Silves' coastal town is Armação de Pêra, with an expansive white sandy beach.
Lagoa, with a capital town of the same name, is a much smaller municipality located close to the ocean and boasting 17 top beaches, specifically around the fishing towns of Carvoeiro and Ferragudo.
Carvoeiro was our destination…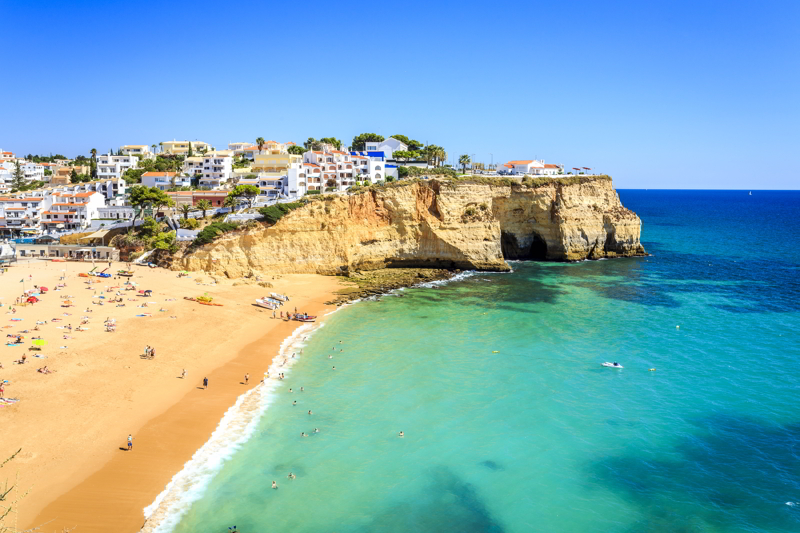 Lagoa's history is linked to the sea. Carvoeiro and Ferragudo, in particular, are important to the country's seafood and fish-preserves industries. The villages of Estômbar and Porches were important centers in the Islamic and Medieval periods, and Porches is today the center of the region's pottery tradition (I came back with several special pieces to remind me of the trip).
The Algarve's 100 miles of Atlantic coastline is punctuated by jagged rock formations, lagoons, and extensive sandy beaches—88 of which have earned the coveted Blue Flag award from the European Blue Flag Association this year (out of a total of 352 flags for the entire country). The iconic Blue Flag is one of the world's most recognized eco-labels awarded to beaches (and marinas) and is a coveted title to hold in Europe.
While the beaches and the azure waters off them are magnificent and well worth your time, you don't even need to get your feet wet to enjoy my favorite part of Algarve's beaches: its dramatic cliffs. Hard to imagine and only graspable when seen in person, I struggle to find the words to describe their majesty and beauty. I get bored watching waves, but I could (and did) sit for hours just exploring by eye these alien-looking cliffsides.
Perhaps my favorite discovery in Carvoeiro was its winding, clifftop boardwalk. At just over half a kilometer, it's not a long walk, but you could spend hours meandering from it down to the cliffs and coast and back again. Along the way there's a famous rock formation that earned the nickname "Doll House," a church, and some small restaurants (with excellent wine and seafood).
If I lived there full time, it'd be hard not to spend all day every day at the beach… swimming, sunning, and boating…
For all these reasons and more, Portugal's Algarve has been a top retirement destination for more than 100,000 resident expatriates from around the world for decades already… but proportionately few of them are from North America. The mostly British expats are easy to find and make friends with, though, and they've also paved the way for fellow English speakers. Many Portuguese speak English thanks to the influx of Brits since the 1960s, so it's not hard to strike up conversation with locals or expats alike.
If you think Portugal sounds like it might be a good fit for you, then you are in time to preregister for our Live and Invest in Portugal Conference 2021. Preregistering will put you in the "first in" list. Then if you do decide to join us for our Portugal Conference, you'll be eligible for all of the first-in, early bird discounts, as well as VIP Status at the event.
Kat Kalashian