"Living Here, I Feel Like I'm Getting Younger By The Day"
"Tulum is mystical," says expat Ray Thoman, who's been living in this lesser known Mexican beach town on the alluring Yucatán peninsula for 14 years.
"We sit between the two largest underground water systems in the world. And with all this flowing water, it creates an energy field. If you've had a bad day, you can go to the beach and sit down for an hour or two and feel like you've been injected with jet fuel."
Although they've been visiting this stretch of coastline for 26 years, Ray and his Mexican wife Maria say they've only scratched the surface of all Tulum's natural wonders—from cenotes to tropical jungle to Mayan ruins.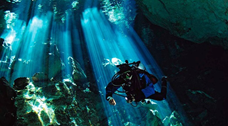 Cenote diving is popular in the Riviera Maya
If you love getting close to nature (both on and off land), this is the place to be. And, with temperatures averaging a steady 85 to 90 degrees year-round, you can always be outdoors.
But this great outdoor living opportunity isContinue reading→