"Living Here, I Feel Like I'm Getting Younger By The Day"
"Tulum is mystical," says expat Ray Thoman, who's been living in this lesser known Mexican beach town on the alluring Yucatán peninsula for 14 years.
"We sit between the two largest underground water systems in the world. And with all this flowing water, it creates an energy field. If you've had a bad day, you can go to the beach and sit down for an hour or two and feel like you've been injected with jet fuel."
Although they've been visiting this stretch of coastline for 26 years, Ray and his Mexican wife Maria say they've only scratched the surface of all Tulum's natural wonders—from cenotes to tropical jungle to Mayan ruins.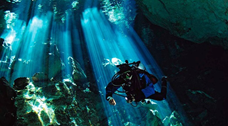 Cenote diving is popular in the Riviera Maya
If you love getting close to nature (both on and off land), this is the place to be. And, with temperatures averaging a steady 85 to 90 degrees year-round, you can always be outdoors.
But this great outdoor living opportunity is only one side of Tulum's story.
Another big plus of this area—right at the bottom of the Ruta Riviera Maya that runs all the way down from Cancún—is that the business opportunities are endless.
If you're considering leaving your job behind to go overseas, here in Tulum you can continue to make money and support your new life at the beach.
Canadian expat Michelle Bradshaw, who moved here six years ago, continues to work part time, long distance for her old Calgary-based company. But she's also tapped into the opportunities in town to boost her income. She started by offering a house-sitting service, then later trained as a yoga instructor. Today, she leads her own yoga classes.
Michelle finds that doors open more easily here: "If you want to do something, it will come to you. When I wanted to take a yoga course, it was right on my back door. My sister who has moved here, too, became a diving instructor."
Ray, who I mentioned earlier, runs a real estate and property-management business in town. Every day, he's frustrated that he can't tap into more of the opportunities he sees all around. One of the big drawbacks of Tulum, he says, is that there is a lack of services… and, expecially, good services.
You can't buy furniture here, for example—or even small furnishings and pictures to hang on your walls. Yet there's a lot of home and apartment construction going on. Set up a furniture or interior-design shop here, and you'd have a steady flow of clients.
Tourism is another big opportunity for expats to tap into. Small businesses like bicycle rental, dive shops, and bars and restaurants would thrive here. Because of its position at the bottom of the Riviera Maya, Tulum is the last place to be developed on this stretch of coast.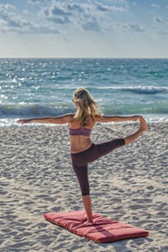 Work from the beach
"Tulum is an infant and has a lot of growing to do," says Michelle. "I would love to see some Asian restaurants and more local stores (clothing boutiques, shoe stores, houseware stores)… but I don't want to see Walmart or McDonalds."
Apart from all the natural wonders that she enjoys, it's the casual atmosphere around town that appeals most to Michelle…
"Things get done… but it may take some time. The fast city pace is not here. It's very relaxed and very comfortable.
"My only regret is that I didn't make the move sooner. Here, I feel like I'm getting younger by the day."
If you'd like to experience Tulum for yourself—while it remains an open-door opportunity—then this is the year to do it. And, our Live and Invest Overseas team has you covered…
We'll be on the ground in Tulum this September, with our full team of Mexico experts and expats, for our first-ever Live and Invest in Mexico Conference. Over three days, from our base at the Luxury Bahia Sian Ka'an Resort, we'll walk you through everything you need to know to act on the opportunities in Tulum—as well as in a handful of other top living-and-investing opportunities we've identified in Mexico.
At time of this writing, we still have a number of VIP spots left… but I don't expect them to last long. You can register—and get full details of the event—here.
Valentine Fouché
Editor, Live and Invest Overseas Confidential
Tel. 1-888-627-8834 (toll-free in the United States)
Email: events@liveandinvestoverseas.com