Tasty And Healthy Living On Portugal's Northern Shore
Clearly the Celts, Romans, and Moors knew something long before the rest of us. With abundant sunshine, stunning architecture, and affordable prices, the secret is out: Portugal is a top retirement destination.
A few years before my husband's retirement, and after extensive discussions over many glasses of wine, we decided to move overseas. The criteria for our new home required that it:
Welcomed foreigners…
Had top quality health care…
Was within our retirement budget…
Promoted a healthy lifestyle…
Served as a gateway to our explorations of Europe.
Would Portugal fit the bill?
Only one way to tell: We booked a flight to Lisbon.
And then, we fell in love.
Whereas most expats settle in the capital city or along the western or southern coasts—the Algarve is particularly popular—we chose the city of Porto in the north.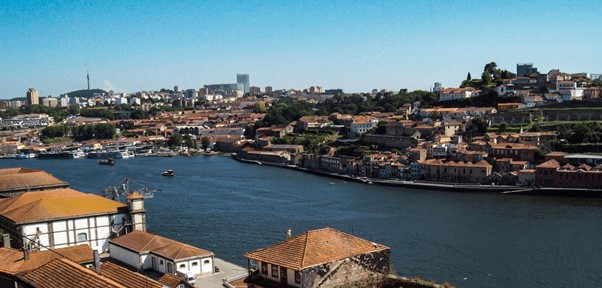 What Porto Is All About
Located along the Atlantic Ocean and nestled on the northern bank of the Douro River, Porto's population is approximately half that of Lisbon's (just a quarter million souls). Though the metropolitan region is far larger, Porto feels more like a series of neighborhoods than a large city. For us, the vibe was perfect.
Porto's history is centuries deep, and with that history comes incredible architecture—from the stunning interior of the Palácio da Bolsa to the vaulted arches of the Sé do Porto. But there's much more to this city than postcard photo ops.
As mentioned earlier, one of our "must haves"—to improve our health and reduce our ever-spreading waistlines—was a ready source of fresh produce, meat, and fish. Porto has us covered. Within a few minutes' walking distance of our apartment are numerous mom-and-pop produce and butcher shops. And despite being in the heart of the city, prices are affordable.
Porto Is Very Affordable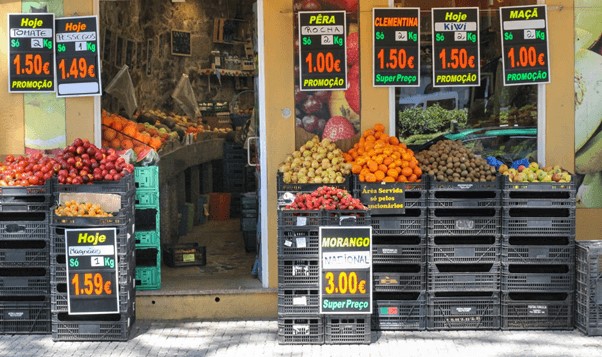 At our closest produce shop, the per-kilo price for carrots and lettuce is 0.89 euros (US$1.01), for oranges 0.99 euros (US$1.13), and potatoes 0.49 euros (US$0.56). Broccoli is 1.99 euros (US$2.26) a kilo and cauliflower 1.69 euros (US$1.92). Produce is seasonal, so right now we're enjoying gloriously ripe strawberries knowing they'll be unavailable later in the year. We shop about three times per week, picking up ingredients only for the next few meals. We spend about 380 euros (US$432) per month on shopping—36% less than our grocery bill in Atlanta. An added benefit to this savings and convenience is a much healthier diet.
We've been amazed, too, at the difference in taste of the vegetables we buy here from what we could get in the States. The broccoli is a rich, dark green and is amazing with just a bit of olive oil or butter. The cauliflower is bright white and steams beautifully without the strong taste that we'd become accustomed to. Oranges are sweet and juicy, and the bananas from Madeira have a distinctive flavor.
Visiting our local butcher (talho) we'll find the usual chicken, turkey, pork, and ham selections, along with some truly Portuguese delicacies like tripe (beef stomach lining) or hog jowls (we haven't been brave enough to try either yet). A whole chicken costs 1.59 euros (US$1.81) per kilo and pork chops are 3.30 euros (US$3.76) a kilo. We buy our eggs here, as well—thick-shelled with rich golden yolks for 1.40 euros (US$1.60) per dozen.
When we're in the mood to wander around the city, we search out one of the street markets. Usually held on Saturday, and depending on the venue, these markets offer hand-crafted items by local artists, kitschy collectibles to decorate your home, vintage clothing, custom-blended spices and teas, besides the ubiquitous fruits and vegetables.
Markets And More Markets In Porto
-Mercado Porto Belo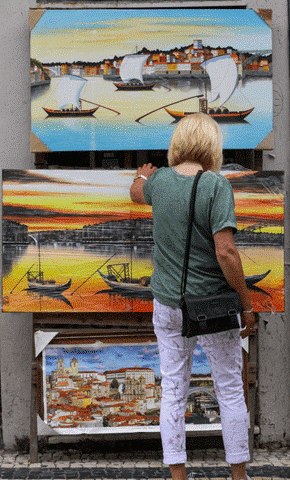 Each Saturday the Mercado Porto Belo sets up near the University of Porto and Livraria Lello—the bookshop immortalized by J.K. Rowling's Harry Potter series. The airy square is an ideal location, ringed by restaurants and shops.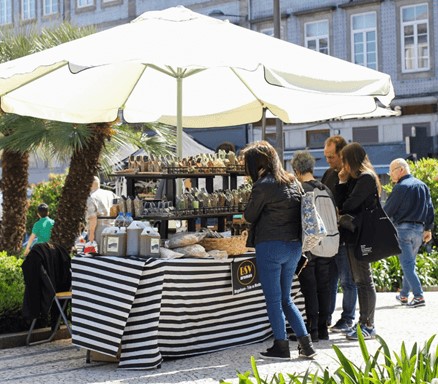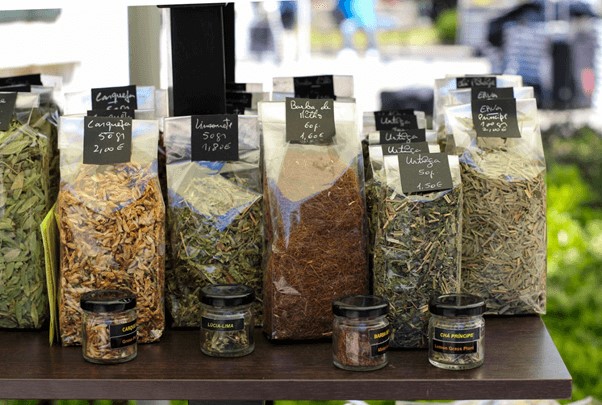 During our last trip there we netted some tasty almonds—6.50 euros (US$7.40) for 500 grams—and checked out a used bookstall. One vendor was selling kokedama—Japanese moss balls—a unique way to add a bit of greenery to our apartment. During an earlier visit, we found a vendor who had an impressive selection of lovingly restored antique typewriters. If we want a moment to rest, the market has lounge chairs in which to relax in the sunshine. Or we can go to one of the nearby restaurants and sip a café (espresso) for 0.70 euros (US$0.80) each.
-Mercado Rural O Berdinho
Also on Saturdays, Centro Comercial Bombarda, a mall in Porto's trendy art district, hosts Mercado Rural O Berdinho. Essentially an indoor farmer's market, the vendors sell fresh-baked goods, fruits and vegetables, every kind of mushroom you can imagine, as well as olives and olive oil, cheeses, soaps, and fragrances. The vendors are always friendly—because we visit often, they treat us like family.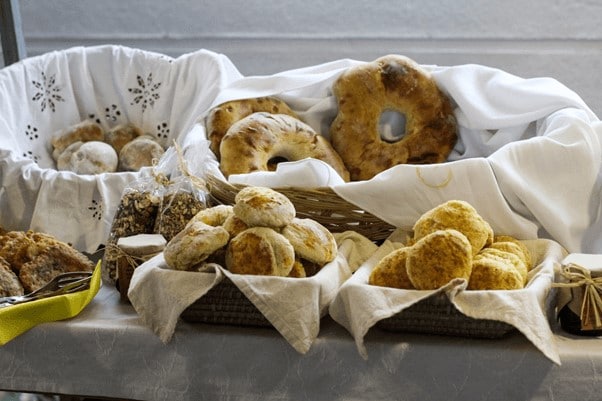 -Mercado do Bolhão
For bigger markets, the most famous is the Mercado do Bolhão. Located in a century-old Neoclassical building in "downtown" Porto, it's best known as a produce and fish market, as well as a great place to score quality Portuguese cheeses, sausages, olives, wine, and meat. Many of its vendors have sold at the market for decades. Because of the building's age, the wrought-iron structure is currently being refurbished to once again become a jewel in Porto's multifaceted crown. In the meantime, the stalls have been moved to the nearby La Vie Shopping Center.
Browsing the fishmongers' aisles you'll discover fresh salmon, octopus, and dourada (sea bream), besides a number of other selections. Availability varies from day to day and prices are often in line, more or less, with what you'd find in grocery stores—whole salmon selling for 6 to 7 euros (US$6.83 to US$7.97) a kilo, fresh shrimp in the 12- to 13-euros-per-kilo (US$13.66 to US$14.80) range, as well as tuna for 8 to 9 euros (US$9.12 to US$10.25) a kilo. No matter what they sell, the vendors are used to customers with little (or no) Portuguese language skills and are eager to help you.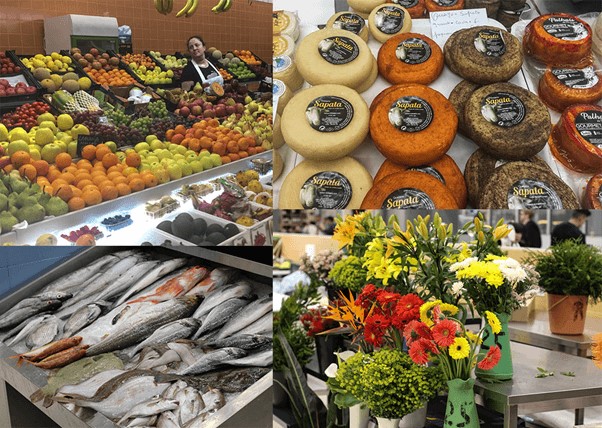 Porto has always been willing to share its treasures with newcomers. For us, part of the fun of living here has been seeking out these markets, both the recurring ones and those that pop up every now and then. After a successful scouting trip, we proudly carry home our plunder for truly memorable and healthy meals—or to furnish our apartment with unique finds. It's all part of our new life in one of the most vibrant countries in the Old World.
Jana Oliver and Harold Buehl
Portugal Insiders