A Cosmopolitan Lifestyle In Europe's Sunniest Capital…
Today I arrive in Portugal for the first time since pre-Covid, and boy is it good to be back!
I'll spend the day in Lisbon today before heading to check out our #1 Retirement Haven for 2022: Comporta.
As I say, it's been a few years since I was in Lisbon, but Editorial Director Sophia Titley was just there and reported back to us for this month's issue of Overseas Living Letter…
Lisbon—Western Europe's Sunniest And Most Accessible Capital
Lisbon is tough to pin down…
Four centuries older than Rome and the second oldest European capital after Athens, it's drenched in historical ambiance and holds its own against any other Continental haven in terms of Old World charm.
Then again, it's a coastal city, found at the point where the River Tagus empties into the Atlantic Ocean, with a swimmable beach only 10 minutes away… Why not describe it as a beach destination?
Where Lisbon stands out most, though, is in its uniquely cosmopolitan attributes…
This is a global city with an important role in finance, commerce, media, entertainment, arts, international trade, tourism, and education.
It boasts incomparable museums, galleries, concerts, and theatre and serves up world-class cuisine. It draws on thousands of years of history to provide gorgeous architecture that will have you tripping over yourself as you look ever skyward…
Great weather (perhaps the best of all the Western European capitals with 220 sunny days per year) and track record for safety are a just a few other things Lisbon's got going for it.
It's an ideal base for exploring all Europe. Living in Lisbon, you benefit from being within two to three hours flying distance from all the major cities in Europe. Plus, its health care system is world-class… as is its education system.
Lisbon feels easy-going, which isn't a word I'd use to describe other European capitals, like Paris or London. It offers all the same amenities, but it's far cheaper than those other two options.
With an authentic view to the past, unique and interesting cultural amenities, and low crime rates, Lisbon offers a high quality of life to its residents, making it one of the most desirable cities in the world to live in.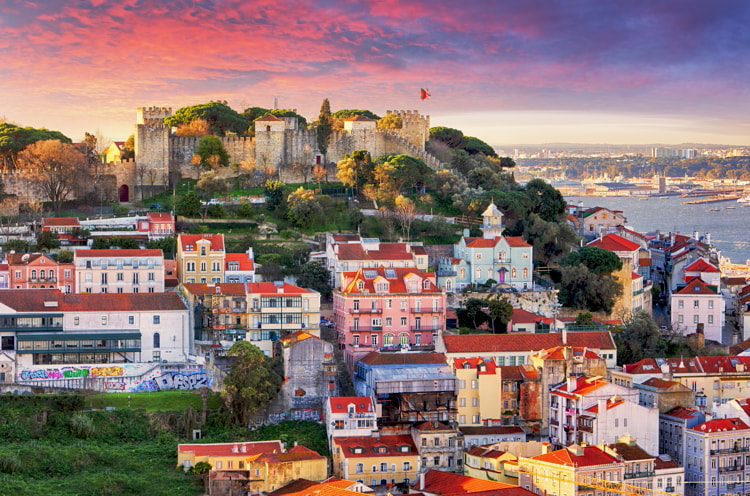 What Makes It Tick?
Portugal is the third safest country in the world, and Lisbon has some of Europe's lowest crime rates. You feel safe living here, regardless of your age or gender.
It's one of Western Europe's most affordable capitals, with the average monthly cost of living estimated at 1,048 euros per person.
It's the second cheapest Western European capital after Brussels in terms of property prices.
It offers cosmopolitan, Continental charm and entertainment in spades—architecture, fine art, museums, theater, festivals, gastronomy, and so on.
Warm hospitality combined with English-speaking locals and excellent food make Lisbon one of the most desired European cities to live in.
The weather is the best in Europe, with 220 sunny days per year in Lisbon.
Living here, you're two to three hours flight distance from all the major cities in Europe.
Lisbon is Europe's crypto tax haven, with 0% tax on crypto gains.
It's an entrepreneur's playground and burgeoning tech hub, with major events like the Web Summit creating a buzz.
Excellent beaches are just minutes outside of the city. Inside the city, the wide-flowing River Tagus makes you feel like you're on the ocean.
Lisbon is an easy-going Western European capital. Alfacinhas (people from Lisbon) are laid-back with a more Latin flair for revelry that shows in their love of music and dancing.
Portugal offers several attractive, turn-key options for residency and citizenship, as well as the Non-Habitual Resident tax program once you've acquired residency.
Health care is excellent, ranked 12th globally by the WHO (Canada is ranked 30th; the United States, 37th). As a resident, the fantastic care comes just about free of charge. Paying out of pocket is affordable, too.
Public transportation options are many, allowing for a car-free existence.
What's Not To Love?
Government bureaucracy is an issue regardless of where you settle in Portugal. It can make simple things like applying for a library card time-consuming and frustrating.
Nothing irresolvable if you have a bit of patience and a lot of persistence.
Lisbon is not a mobility-friendly place… it's hilly and has ancient, hand-laid tiles for pavement that have become slippery with the passage of time. Also, older buildings may not be equipped with elevators, meaning strain on the knees if you live a couple of floors up.
The city underwent rapid urbanization in the 90s, and the environment bore the brunt of those changes. Natural resource use, pollution, and restructuring of land use strained the environment… Today, like most big cities, Lisbon suffers from some issues of air and water pollution.
The situation has been improving over the past 30 years but there are still not appropriate facilities to eliminate urban, industrial, and hospital waste. Initiatives have been underway since 2005 to protect and enhance green spaces, revitalize abandoned buildings, address water pollution, reduce overall pollution, and manage natural resources more responsibly.
Environmental infrastructure has expanded, but more development is needed for the country to balance economic development and sustainability.
Is Lisbon For You?
Most expats considering Portugal are only thinking about the Algarve… It's beautiful and enticing to be sure, but it doesn't offer anything close to a cosmopolitan existence.
Lisbon is exciting. It's one of the most historical cities in the world, with excellent cuisine, top-notch cultural amenities, and a vibrant, up-and-coming entrepreneurial atmosphere.
It's a Continental capital, but it's laid-back, with none of the uptightness of London or Paris. Locals are friendly, and it's a safe environment. It's also got great health care and transportation infrastructure, all at affordable prices.
But despite the conveniences and amenities, the clincher in any decision to move to a new place is often the simple, day-to-day stuff…
In Lisbon, it's the opportunity to live in a village atmosphere despite being in a major city, because the neighborhood is that ancient and well-established…
It's the chance to take a moment and enjoy a coffee on the terrace of your favorite kiosk… or sit in the sun and watch the meandering River Tagus from a secret miradouro.
It's the possibility of discovering something new, even surprising, every time you walk out your front door…
If those simple charms sound appealing to you, Lisbon should be at the top of your list.
Sophia Titley
Editor, Overseas Living Letter