Can I Make Money In My New Home Overseas?
One of the most important issues for some thinking of a move overseas is the potential to earn money in their new home…
While getting a job overseas as a foreigner has never been easy—and it became even harder in the bleak COVID-19 era—there are some shrewd ways to make money overseas that don't involve direct employment in a foreign company. Getting an overseas posting from your current employer, for example, is how nearly all my expat friends are currently living and working in Paris.
Others have set themselves up as local or international consultants. If you've got expertise that others will pay for, either to locals in your new home or remotely to foreign clients, then you could be in business.
Teaching English is another way that expats I've known in many countries have made some extra cash to fund their new lives. This can be one of the easiest and fastest ways to start earning in a foreign country.
You could start your own business overseas, and, again, I've known many, many expats who have done this, myself and my family included.
While the prospect may seem daunting, it needn't necessarily be… you could invest in a franchise, for example—a business in a box that's ready to go. And starting a business doesn't have to mean brick-and-mortar and employees… you could start a business from your suitcase, exporting goods from your new country to sell "back home." A business could be a cottage industry—picking fruit from your orchard and selling homemade preserves at the market, for instance
The possibilities here are endless and piggyback directly off of your personal interests. You may not strike it rich with these kinds of small business ideas, but they'd keep you busy doing something you enjoy while putting some extra spending money in your wallet.
Take Your Job On The Road To Anywhere
Or you could cultivate a trade you can practice anywhere, becoming a so-called digital nomad. In fact, this is possibly the most foolproof way to make money no matter where in the world you decide to base yourself, and it comes with the liberty of never being tied down. Why confine yourself to a stuffy office in the city when you can work just as easily from a beachside café in an exciting and exotic locale?
The COVID-19 pandemic has had a massive impact on the world's tourism industries. As the third-biggest export sector of the world economy, the consequences of this are far-reaching. It's estimated that around 100 to 120 million jobs are at risk worldwide
To combat the decline in traditional tourism, many countries are rolling out special visas and programs targeted at digital nomads. "Countries that have lost a lot of tourism income will be reliant on people coming there long term, and that's going to be a whole new business service," comments one career digital nomad. Another digital nomad guru agrees. "We're going to have a lot more remote workers, no matter what. Even if it's only a small percentage of overall remote workers, there will be a big increase in the population of digital nomads," he comments. "There will be a lot of services popping up around this lifestyle—insurance, co-working, co-living."
From the Caribbean to Central Europe to the Middle East, these "digital nomad visas" are emerging…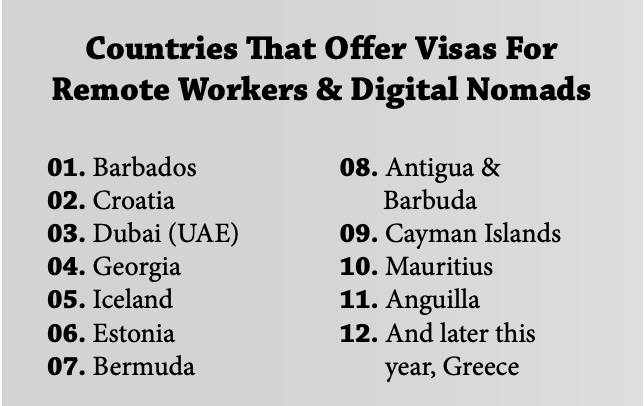 Each country has its own unique plan with specific requirements, so it's important to do your research before landing on a long-term digital nomad base. For example, the Cayman Islands require an annual income of at least US$100,000. That eliminates most nomads I know…
More Money, Zero Work…
And, finally, there's the passive income route… making investments that will throw off some monthly income. This one requires some forethought and "start-up capital," but if you organize your life and your investments efficiently, a strong portfolio can be enough to live off of.
If you're still a few years away from your retirement overseas, even better—you have some time to plant seeds now and have them grow into healthy little trees by the time you're ready to start living off the fruits.
Here at Live and Invest Overseas, we take the investment side of life seriously… in both literal and metaphorical ways… Educating yourself on how to make your life the best it can be by looking beyond your own borders is perhaps the best personal investment you could make. It principally takes up your time, perhaps some money, too, but every minute and every cent spent are "reinvested" in your future overseas… where you could potentially live a far better life for far less, while keeping your mind and body active in a new and healthy lifestyle.
On the other hand, literally speaking, making alternative investments is a large part of the conversation we have with you, our reader, every day. Whether it's overseas real estate, agriculture, rare metals, trees, wine, art, or any of the other countless alternative investments you can make these days, we like the idea of thinking outside the box when it comes to parking cash someplace and have it keep working for you.
Since becoming an editor for LIOS, I've absorbed this institutional philosophy to the point that it's now personal. My husband and I are big fans of alternative investments. In the past few years, we've looked at several opportunities, including truffles, art, wine, and whiskey, and we've gotten involved with a couple of them that we felt strongly about.
My personal favorite is a kind of art brokerage. We work with a gallery that cultivates burgeoning artists, and we pick the works we'd like to purchase for investment. We don't hang it on our walls. It stays with the gallery which displays it in exhibitions until it's sold, hopefully at a healthy profit. As a non-practicing art historian, this investment speaks to me on a very personal level. I love being able to say I'm involved in the art world, even if it's not my career right now. I love supporting young female artists whose work I find impressive and moving. For the record, you can invest in artist of either gender, but I like choosing female artists, as they've been historically disenfranchised in the industry. The fact that this investment also feels good on a moral level is gravy. How many investments can you claim to be bettering the world we live in?
Agriculture is another investment you can feel good about…
Of course, mass cultivated land isn't a good thing for the planet. But our population is only growing, and we need to eat no matter what…
You can make a difference by choosing to invest with an ethical farming company that will deliver responsibly grown food… and help both local and global economies.
The financial rewards coming from small, turn-key farm investments are not to be sniffed at either…
One of the most rewarding opportunities on the table right now is in an almond farm in Spain…
Spain, with an ideal growing climate and soil, checks in as the second largest almond producer in the world. On this plantation, you own your own parcel of land… and all the planting, processing, and selling is done on your behalf…
Starting in year 3, your projected return is 2,000 euros… by year 10, that's expected to reach 15,000 euros… and increase every year until year 45…
This makes for a healthy boost to your annual income (without lifting a finger)… and a chance to grow generational wealth…
If you'd like to hear more about this opportunity, be sure to join our free spotlight event this week…
It's happening this Thursday, June 17, at 11 a.m. EDT. LIOS global real estate guru Lief Simon will host this special online event where he'll be joined by an expert from the almond farm. They'll walk you through everything you need to know… and be at hand to answer your questions in real time…
Again, it's completely free to join…
For more details, and to register, go here now.
Kat Kalashian
Editor, Live and Invest Overseas Confidential