On The Lake In France—I Could Get Used To This…
I was away last week on vacation and try as I might to turn off my work brain when I travel for pleasure, I just can't stop myself from thinking about anyplace I visit in the context of living there…
So how does Annecy, France, stack up?

Lake Annecy is located right about two-thirds of the way down France's eastern frontier, mere minutes from Geneva, Switzerland, and about an hour and a half from the Italian border.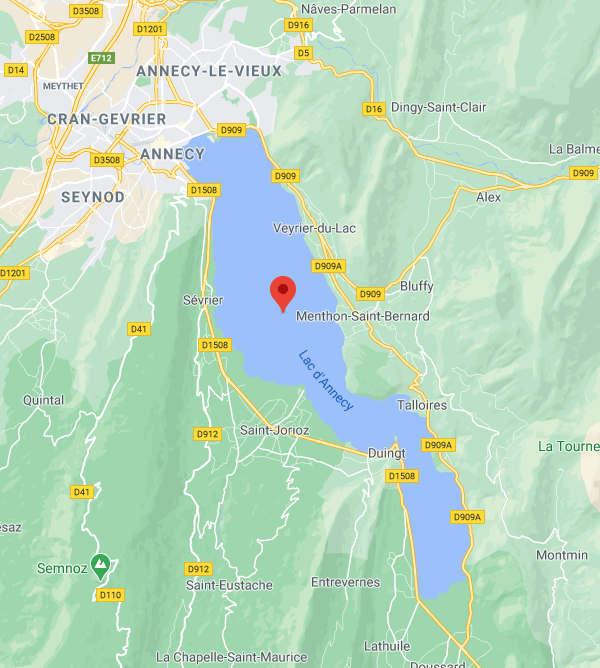 It's in the middle of the Alps, but it's only at a 500-meter elevation (about 1,650 feet). Surrounded by ski resorts at higher elevations all around it, though, Annecy is just as much a winter destination as a summer one.
In winter, it'll get nice and snowy, but because of its balance between elevation and latitude, temperatures don't get too far below freezing. Averages in the height of winter are between 28°F and 40°F. During summer, Annecy warms up, but, again, not to the extreme, with mercury rarely breaking 80°F.
The lake—the cleanest in Europe—is the place to be when it gets hot. The water is shallow all around the coastline, just a foot or two deep until you walk a good ways out. It's so crystal clear that you can easily see to the bottom until it's at least 10 feet deep, and if you open your eyes under water, it's just blue as far as the eye can see.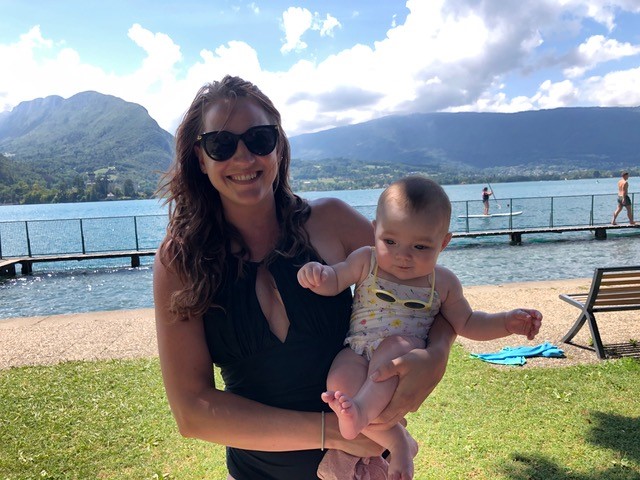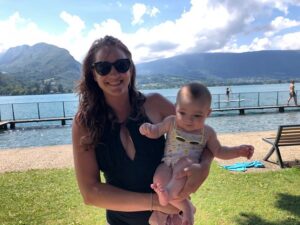 While I was there the temperatures never got too high, but the lake water was always refreshing. With about a dozen official beaches and countless outlets into the water, you're never far from a dip here. You can opt for a municipal beach but you can also jump in just about anywhere… Much of the lake is bordered by a low wall from which you'll see locals and tourists lowering themselves into the shallows.
Some of the municipal beaches are free, some have a cost (never more than 2.50 euros per person). All beaches, though, come with amenities, and I couldn't make any correlation between the entry fee and the level of development. All beaches offer bathrooms and changing rooms, some are cleaner or more "luxurious" than others, but, again, this has nothing to do with being a paid or free beach. They all have snack shacks, some also have full restaurants. Some snack offerings are fancier than others; you might find simple sandwiches or you might find tapas plates. Nearly all have sporting facilities of some kind, usually volleyball and pétanque. All have supervised swim areas with trained lifeguards on duty. Some have diving boards, slides, platforms to swim out to, paddleboats, and more.
What do the beaches not have, you ask?…
Sand.
If you're a snob for a sandy beach, then Lake Annecy might not be the summer location for you. My husband is a stickler for sandy beaches, and this was his only complaint (though it was a small one that was easily mollified by the wealth of other benefits we enjoyed). Some beaches might have some sand… but no beach is all sand. The "beach" you set up camp on is actually just grass, and most shorelines and shallow areas are rocky—swim shoes are a must.
Marinas, boating schools, water sport rentals, and every other kind of shoreside activity and amenity are found all over, both at the beaches and in between.
And there's no shortage of patronage for all these activities… it seems a requisite to visit the lake with your family. We saw no singles… and I don't recall any couples either. This is the most multi-generational family-friendly town I think I've ever visited.
When I say Annecy, I'm referring to the entire lake area, but, in fact, there's also a town called le vieil Annecy (Annecy's old town) on the northern tip of the lake. This captivating medieval town dates to the 15th century and oozes charm. Called the Venice of the Alps, in town you'll meander along the cobbles of crisscrossing canals, over quaint bridges, through tiny passages, and under ancient beams as you explore this picturesque modern village. A hot spot for tourists that visit, the town always seems to be crowded.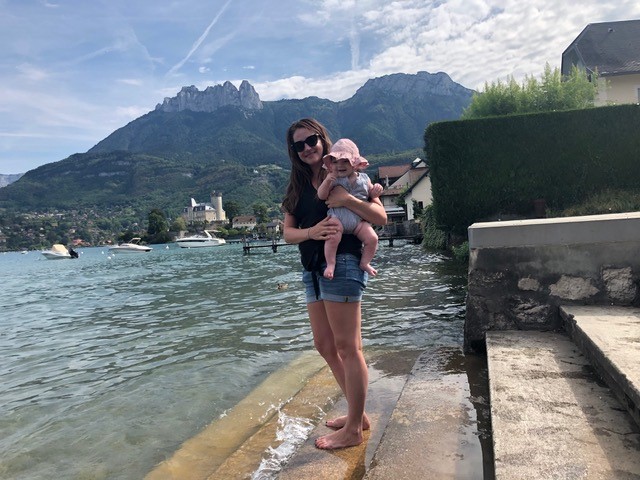 Cafés abound in the city, practically every business is an eatery of some kind. Every five restaurants or so a handicraft or local artisan goods store has set up shop. The food is all good and well-priced. Coming from Paris, even the most expensive restaurants seemed cheap here.
And the food here is fantastic. The department, Haute-Savoie, is famous for its hearty, cold-weather comfort food, but there's plenty to be enjoyed in summer, too. (Despite the sweaty days, I saw plenty of folk enjoying a steaming fondue… though it wasn't something that appealed to us for this season.) Cheese plays a big part of every dish here, as does bacon or ham. Mussels are a local favorite, along with flammkuchen. If you're not familiar, flammkuchen are German pizzas—no marinara, just a creamy, cheesy base, onion, and bacon. They are delicious. And I saw more varieties of it here than I'd ever known existed. We tried several throughout our stay.
Annecy's old town is worth a stop, but it's not where I would choose to call home if I were to live here…
Aside from le vieil Annecy, the whole lake area feels like one big small town. Every little lakeshore outpost is self-contained—each has its own church, boulangerie, boucherie, poste, grocery store, pharmacy, and beach. Some have little more. Others also offer chateaux to visit and deceptively modest white-tableclothed restaurants that, once entered through a nondescript entrance from the roadside, open magnificently onto terraces over the water.
A word of warning—low-key as these restaurants are, you need a reservation wherever you go. They all fill up every night during vacation season. We managed to get lucky and snagged a canceled reservation one evening, and the experience was one of the most memorable I've had, even aside from the delicious food. The lake lapped lazily at the pilings under our seats as a gloved sommelier poured out a taste of the wine bottle we chose for the evening… the maître d' deboned our lake-caught fish and delivered it with a flourish.
If I were to make Annecy my home, I wouldn't live in the old town because it was just too packed with tourists at most times of day. While this wouldn't be the case year-round, the fact that Annecy attracts both summer and winter tourists means that it's likely you'd always have some competition on the streets here.
We also noticed that there pretty much always seems to be traffic coming to le vieil Annecy from the south on the eastern shore, which makes the western shore more attractive. To be able to drive into the old town on a whim would be a key component of living here, but to come from the eastern side, you'd sit in gridlock for at least 30 minutes.
On the point of public transport, I'd say that a car is needed to live comfortably in Annecy, but you can also get by well by bike. It wouldn't be comfortable for longer trips or to go shopping, but for short trips around the lake or within the same town, a bike is plenty sufficient. Buses can also get you where you need to go in a pinch.
We also like the fact that the beaches on the southern point of the lake were far less crowded than those at the north. The farther from le vieil Annecy you get, the fewer people you see.
My musing is not entirely hypothetical… as early as Day One we were in love with Annecy and vowed that a holiday home was in the cards for us there at some point in the future. A six-hour drive from Paris, it's a manageable distance but also an absolute getaway. It's family (and dog) friendly and good for all seasons. We can swim or hike, travel only by bike if we choose, and can completely unplug.
However, unplugging does come with some downsides… food delivery services haven't quite made it here yet, and takeaway food is scarce. You need a full shopping trip to eat well here.
The quintessential location for a vacation home on a lake, it doesn't get any more scenic than Lac d'Annecy…
Kat Kalashian