I spent seven years living in Panama, the Hub of the Americas, and during those years, I got to know Latin America pretty well… Belize, Mexico, Paraguay, Ecuador, Colombia, Argentina, Nicaragua, Venezuela, Peru…
I've seen a good portion of this part of the world and spent time working in each.
I moved to Europe in 2018, and since moving I've realized I miss Latin America more than I ever expected to. The easygoing cultures, the friendly people, the warm weather and all-year sunshine, the generally low cost of living, plus the natural beauty of this part of the world… it all adds up to some pretty incredible lifestyles south of the border…
But if you haven't spent years getting to know all of these unique countries in person, how do you figure out which might be your ideal new home overseas?
Let's take a quick tour of LIOS' top picks in this part of the world to help you get acquainted…
Mexico: Accessible, Affordable, And Familiar… Why Go Farther?
Mexico offers lots of options and opportunity for the expat. This is a big, extraordinarily diverse country that offers two long coasts, mountains, and colonial cities… not to mention Mayan ruins, jungle, rain forest, rivers, and lakes.
Mexico is the most accessible country in the region from the United States and Canada. Being in North America, this country is home to many American franchises, from McDonald's to Pet Depot and Walmart to Starbucks. Almost anything you buy in the States is also available in Mexico.
Mexico is the #1 overseas destination for North Americans, with more than a million expats calling it home. Mexico is home to the biggest established population of American expats in the world. Ajijic and Chapala are two of the world's biggest established communities of North American retirees overseas (though these aren't our top recommendations in the country).
And all these expats are enjoying a low cost of living at today's exchange rates, while new arrivals are getting some good property bargains.
Because of its close relationship and proximity to the United States, Mexico is, perhaps, your best choice if you seek an adventure overseas with all the comforts of home.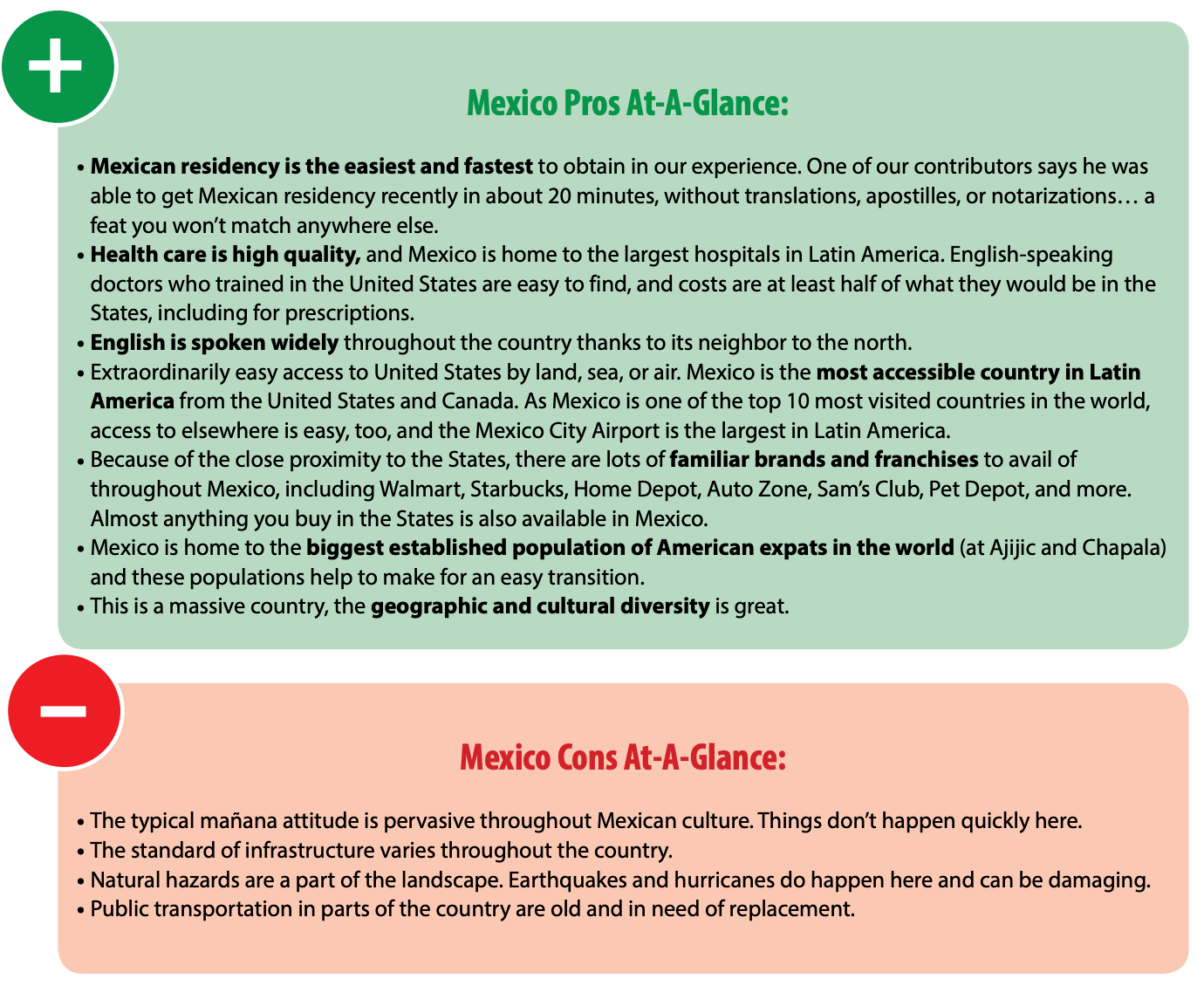 Belize: An English-Speaking Caribbean Paradise Less Than Three Hours From The United States
This is a tiny country, about the size of Massachusetts, with a population of just 350,000 people. The entire country is like a small town. Everyone here speaks English (it's the country's official language), but the population is incredibly diverse.
As the only English-speaking country in Central America, Belize has been attracting expats in the know from the U.K., Canada, and the United States for decades, famous for its white-sand Caribbean beaches and clear, unpolluted waters. Belize offers reef, ruins, rivers, and rain forest… plus easy residency and tax-free living.
This is one of the quirkiest places in the world. Belize City's roadways are built around a system of roundabouts (thanks to her British colonizers), but shops alongside them sell rice, beans, and tortillas still ground by hand.
Infrastructure is not Belize's strong suit. Belize only has a few highways and they're two-way streets. Infrastructure in Belize is improving, but still very lacking and not like what you would find in the developed world. You also won't find any chains or franchises in Belize.
The common denominator among everyone finding his (or her) way to Belize's shores today—from scuba enthusiasts and eco-adventurers to missionaries and billionaire investors—is a desire for a simpler, freer, more private way of life. With everything going on in the world these days, Belize's back-to-basics lifestyle is almost irresistibly appealing.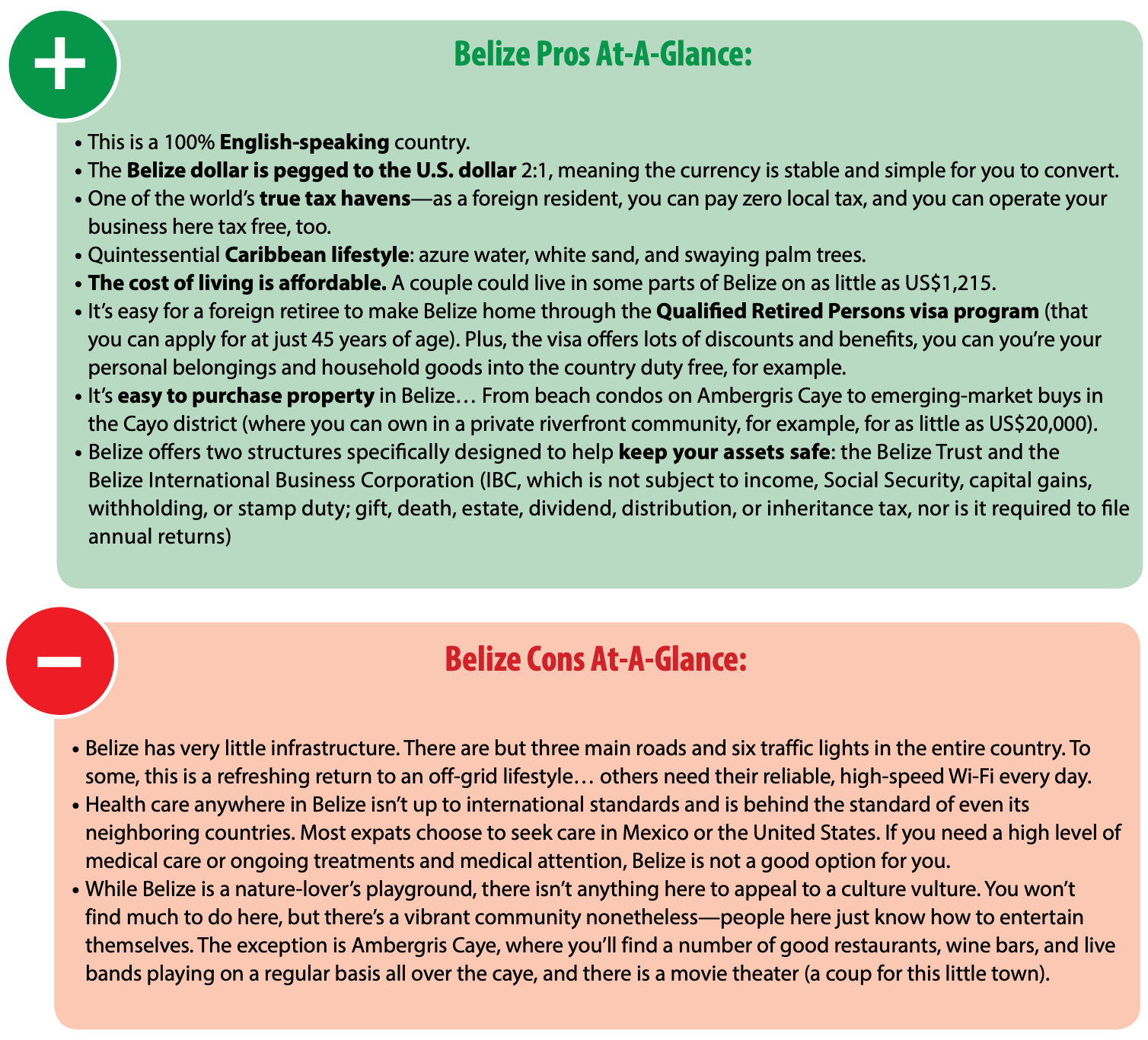 The Dominican Republic: A Super-Affordable, Sand-Fringed Island Nation
Welcome to the Caribbean as it once was, priced as it used to be. The Dominican Republic offers you a rich, relaxing, and truly diverse lifestyle (even on a pensioner's budget). Plus, recent infrastructural developments mean it has never been safer or easier for foreign retirees and investors to stake their claims.
The final landing place in the New World for Christopher Columbus and his crew in 1493, today the Dominican Republic is a white-sand haven that is surrounded by warm turquoise waters and enjoys year-round sunshine. This affordable island paradise boasts not just beaches—both remote and resort—but also virgin jungle and mountain hideaways.
The Dominican Republic is the Caribbean but so much more, a melting pot with an eclectic population and a diverse history informed by Afro-Antillean, European, North American, and Latin cultures. This not-so-little island has a lot to offer and a long history of welcoming foreigners.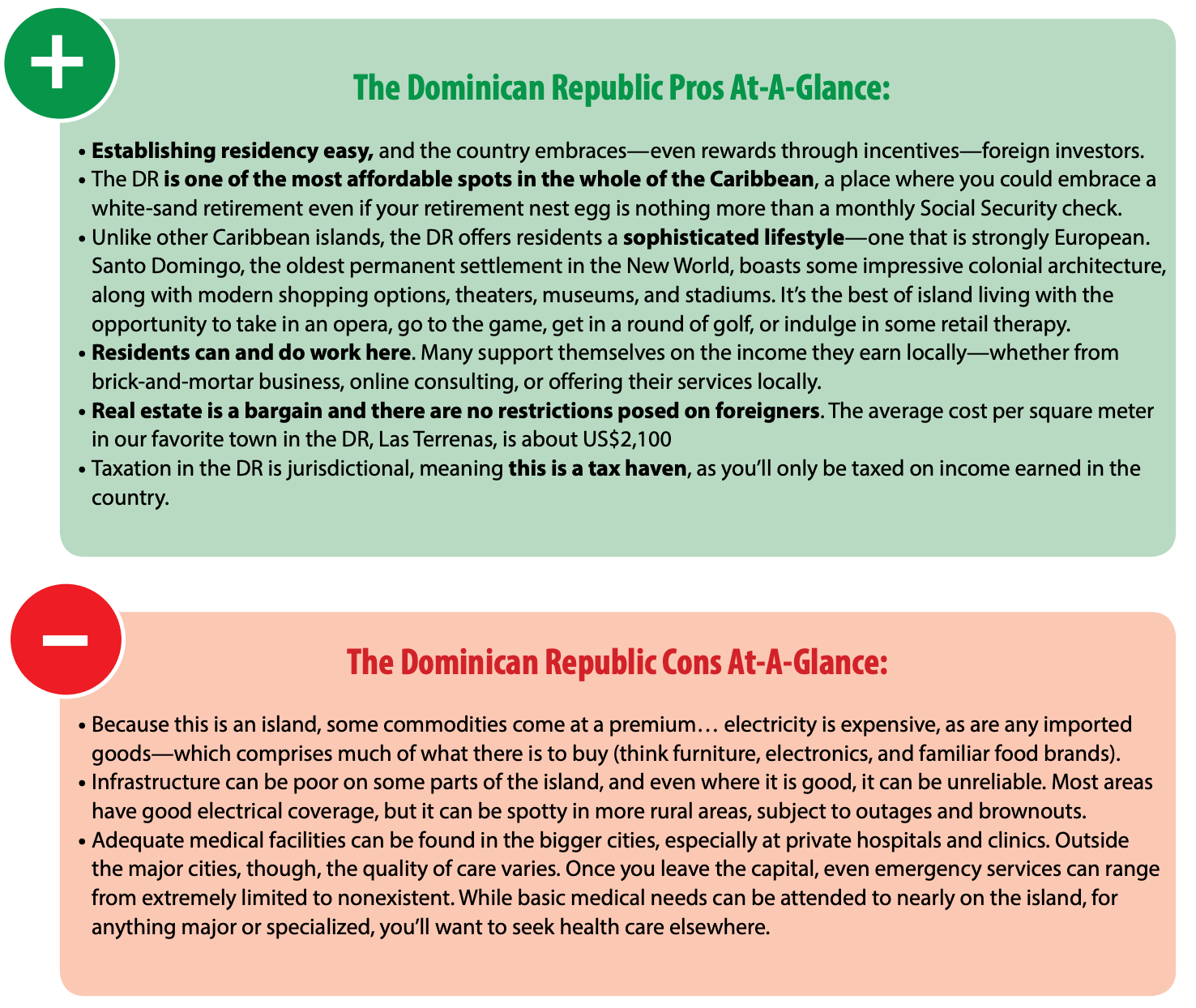 Panama: A Retirement And Business Haven With Still-Emerging Pockets Of Opportunity For Real Estate Investment
We've been making the case for Panama for over 20 years now, and we're more bullish on the opportunities and upsides on offer in the Hub of the Americas than ever before.
Panama could arguably be called the world's best offshore haven. There is no doubt that Panama has serious pluses for those looking for a country with a cheaper standard of living than the United States and Europe. Panama is blessed with beautiful islands, ample coastline beaches, mountain retreats, and colonial towns.
The people here are friendly, and, outside of Panama City, the atmosphere is generally quite laidback and easygoing. With a population of only 4 million, the country does not feel overly crowded.
If you are in the market right now for a place to live, retire, invest, or do business overseas, you're doing yourself a big disservice if you aren't looking closely at this little country.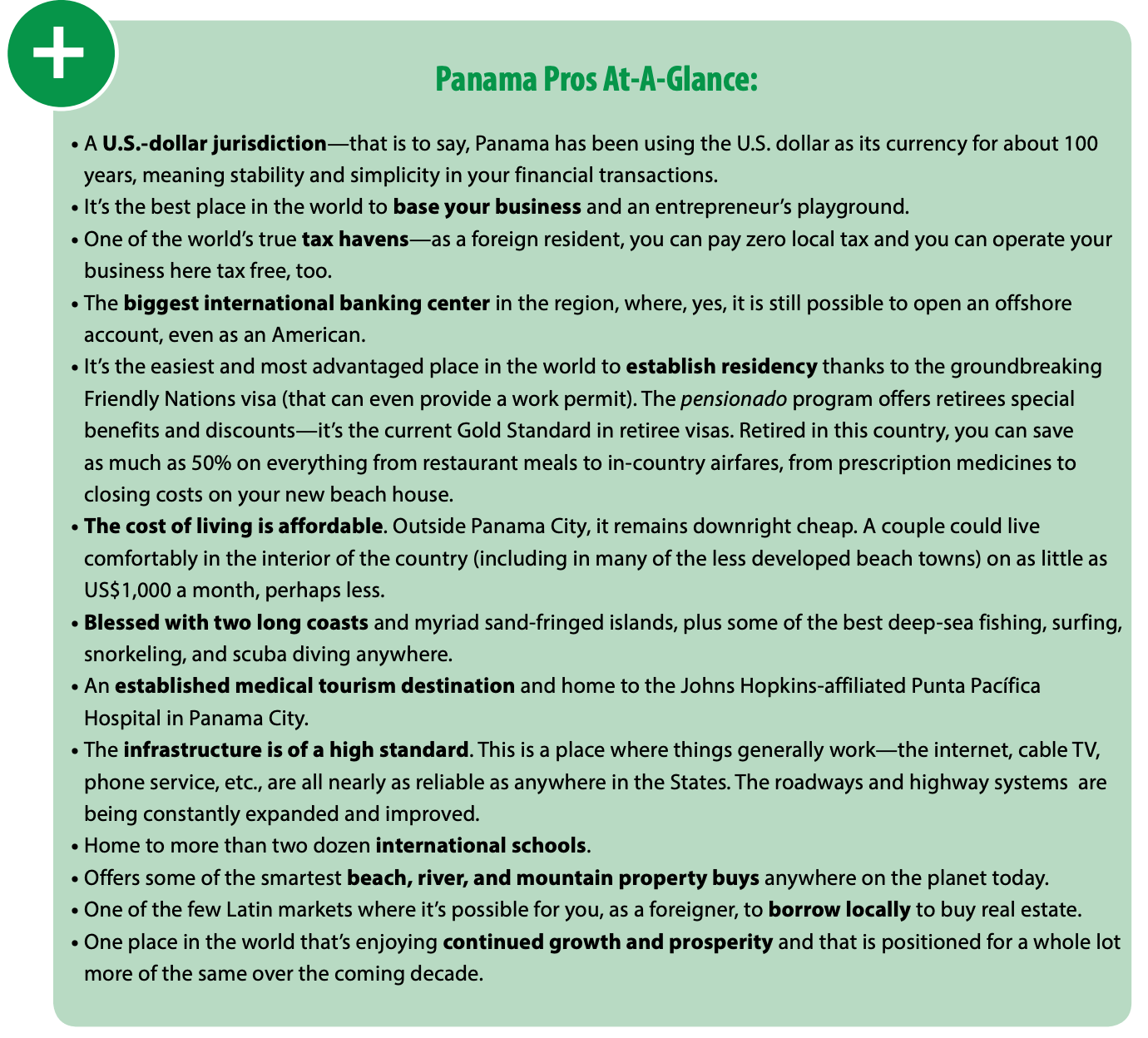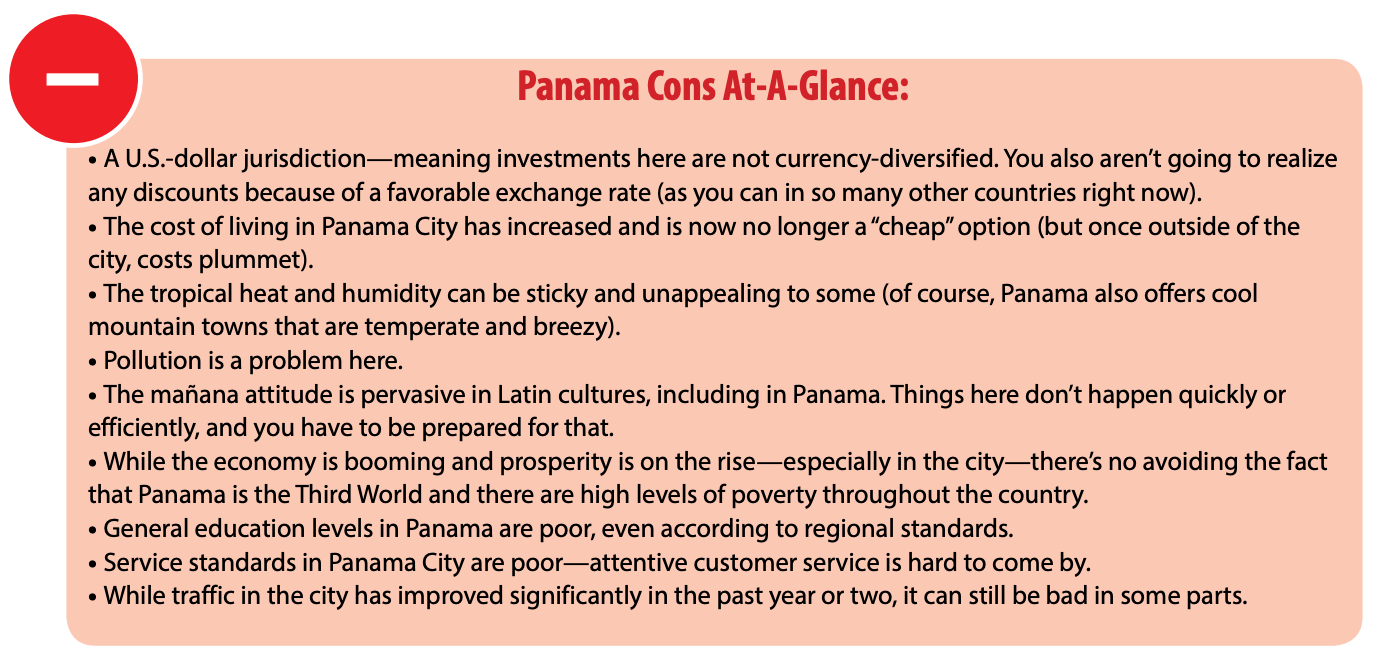 Colombia: The Best Health Care In Latin America With Diverse Lifestyle Opportunities
For us and Colombia, it was love at first sight. Over the decade-plus since we first laid eyes on this beautiful country, we've become only more enchanted.
Shortly after Colombia first came onto our radar, we made a bold prediction… Colombia, specifically Medellín, we reported, would soon take its place on the shortlist of world's best places to live.
Back when we first made it, that prognostication created a stir. How could we be recommending that expats and retirees think about taking up residence in the land of Pablo Escobar?
Today we're no longer alone in referencing Colombia as a world's best destination. The New York Times, Travel + Leisure, Forbes, and others have made similar declarations.
As a result, Colombia as a top-tier choice for anyone considering launching a new life overseas isn't news. Colombia is enjoying the attention she deserves in this context.
Colombia lies where the Andes converge with the Pacific and the Caribbean, providing a dramatically beautiful country with two coasts and lots of geographic and cultural diversity along with strong regional identities. Colombia is considered the second most biodiverse country in the world after Brazil.
The U.S. dollar's historic strength against the Colombian peso is creating remarkable bargains. And, more than ever before, Colombia, specifically Medellín, qualifies as one of the best places on earth today to establish your foothold overseas.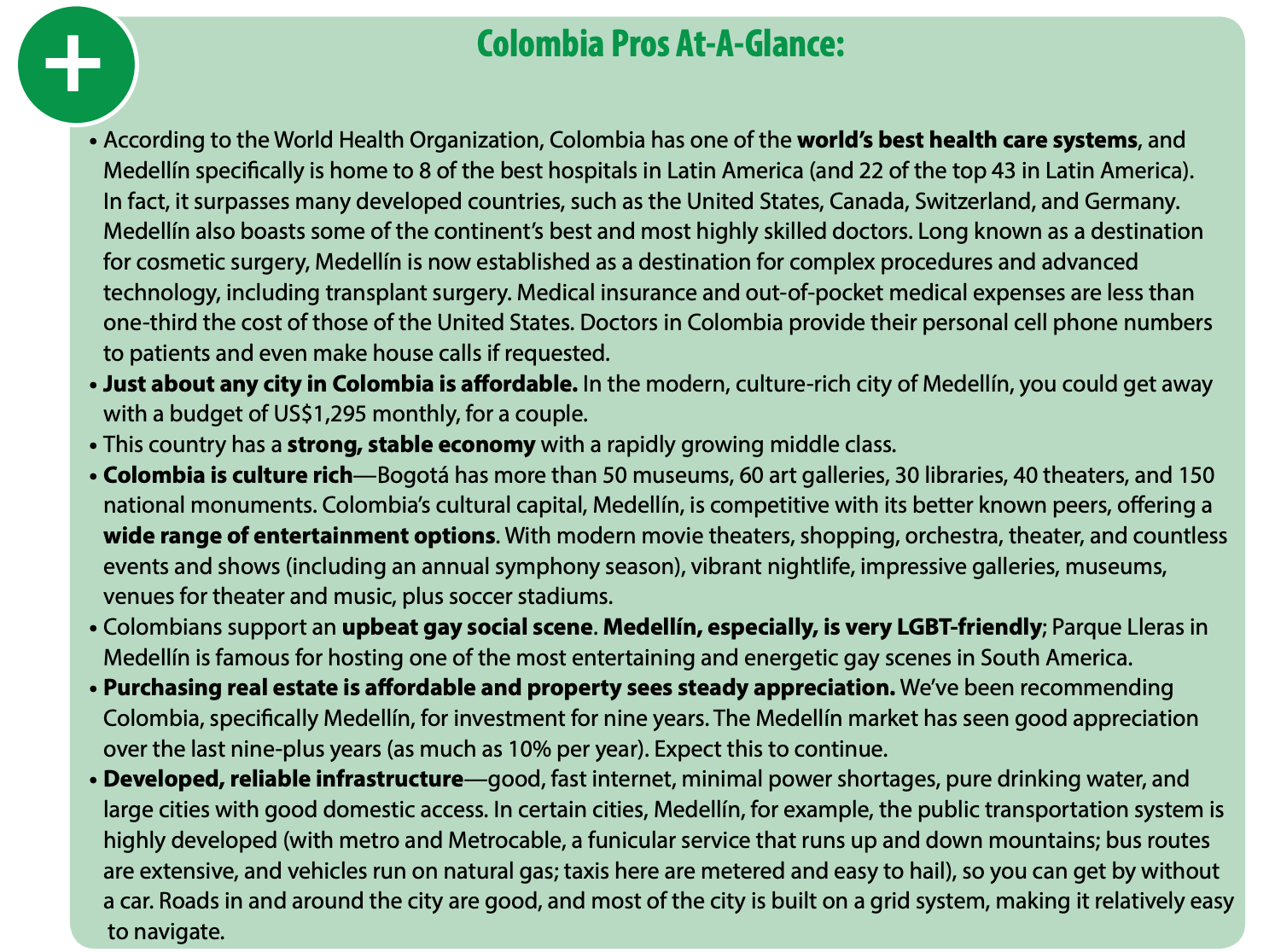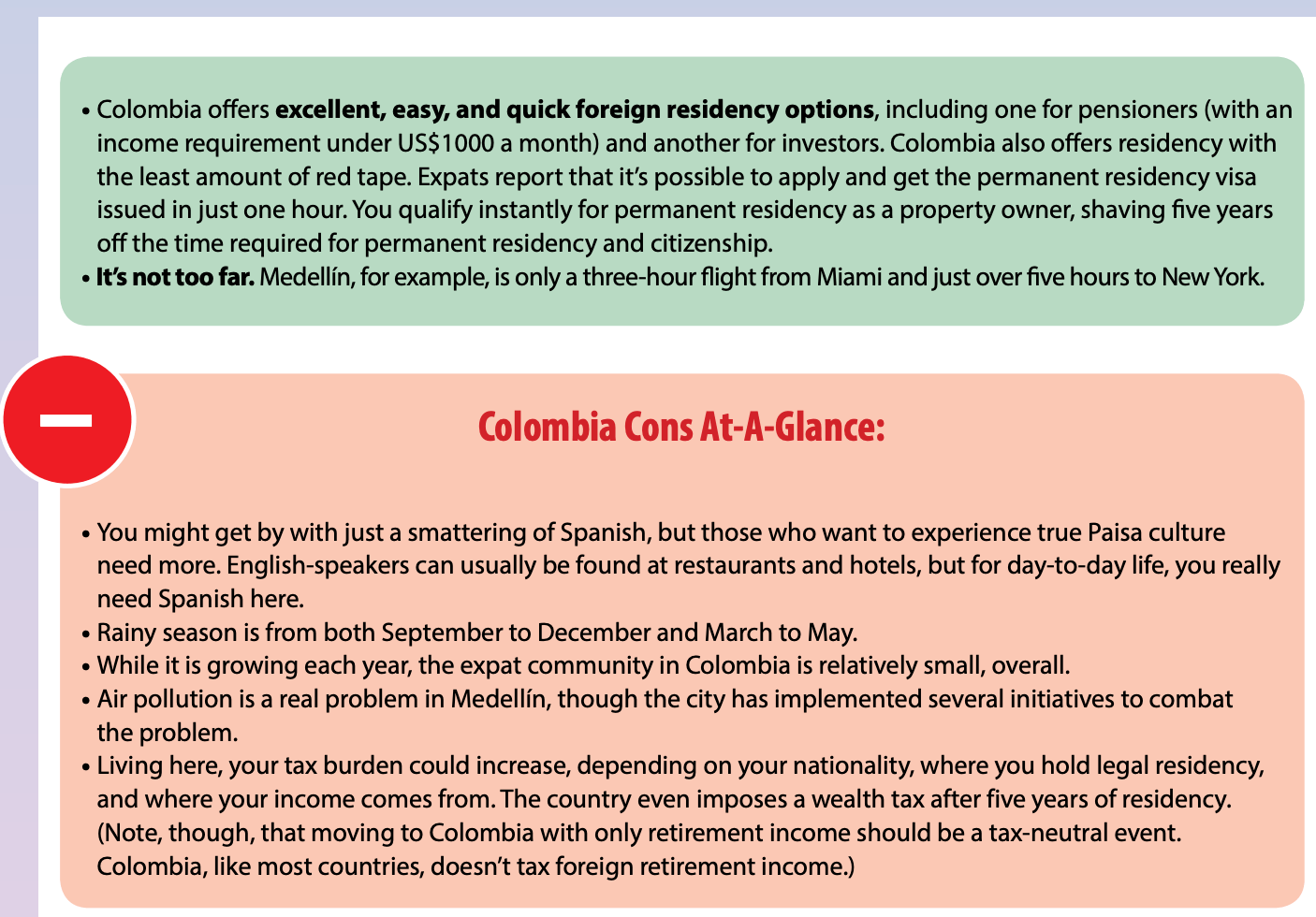 Argentina: Live The Good Life In The Wine Country, With A Low Cost Of Living And Excellent Health Care
Argentina is a captivating country that is both Latin American and European in culture and lifestyle, where the new and the old worlds blend harmoniously.
A destination that has welcomed immigrants and expats since the mid-1800s, much of the population in Argentina claims Italian or Spanish heritage or both. The connections are clear when you walk the streets of Buenos Aires. Everywhere are pasta and pizza shops, and Spanish is spoken with a noticeable Italian inflection.
However, to know Argentina's economy is to know one of the world's biggest dramas. The country is up and then it is down, with flashes of stability bridging the time between the last rise and next big tumble. In late 2001, the Argentines removed the peg between their peso and the U.S. dollar, and the crisis situation opened a window of opportunity during which savvy investors, led by our editors, bought primo Buenos Aires apartments for a fraction of their former value…
In terms of lifestyle options, Argentina includes a world-class city, Buenos Aires, of 14 million people. In the interior, expats enjoy life among the vines in the Mendoza region, colonial Cordoba and the surrounding mountains, Salta, and other provinces.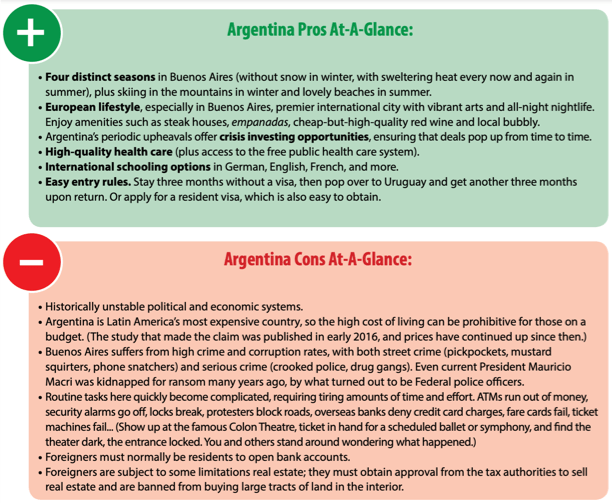 Kat Kalashian
Editor, LIOS Confidential