As Close As You Get To Paradise
If you've been a reader of Live and Invest Overseas newsletters for any length of time, you've probably heard us say (at least a dozen times) that there is no perfect paradise. No single, one-size-fits-all retirement haven solution.
We don't mean to disappoint, of course. We call it like it is. And we make it our mission to present you with our careful selection of the world's best offerings. Based on your own agenda, you choose the place that makes sense for you.
But sometimes, there's a place that comes close to perfection. Sometimes, there's a place so full of charm, so heavy on attractions, so welcoming and accommodating of expats, that it pretty much ticks all the boxes you could possibly lay out for your dream retirement.
Portugal's Algarve is one such place. It's the stretch of coastline in the south of the country, starting at the Spanish border and running almost 100 miles across to Europe's southwestern tip, Cape St. Vincent—once believed among Europeans to be "the end of the world."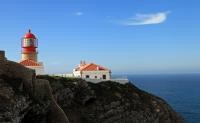 Cape St. Vincent—once "the end of the world" for Europeans
Long-time magnet for British holiday-makers, as well as other mainland Europeans seeking less-crowded beaches than those on the Med, the rest of the world has been slowly catching on to the Algarve's stunning beaches. In 2013, it was named Best European Beach Destination at the World Travel Awards (the travel industry's version of the Oscars). In 2015, Portugal was named World's Best Golf Destination. Not forgetting that the Algarve came out tops in our own 2015 Annual Retirement Index.
Though on the Atlantic, the Algarve has a Mediterranean feel mixed with strong traces of its Moorish past. The beaches are powder white, sheltered by dramatic rock, and lapped by turquoise waves. Portugal also enjoys more sunshine hours than anywhere else in Europe. This is why visitors still come to the Algarve's beaches and bask in the sun right up into the middle of October.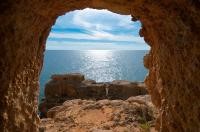 There's more to the Algarve than the beach. But do you really want to leave the beach?
Photo caption: There's more to the Algarve than the beach. But do you really want to leave the beach?
And there's more than just the beach. Old fishing villages with winding streets where potters and artists display work outside their studios… cobbled streets bordered by restaurants serving up hearty dishes of paella and local wine… world-class golf courses with commanding views… cycling and hiking trails (including the Portuguese version of the Camino)… and an established cultural and entertainment scene. Whenever you're able to draw yourself away from the ocean views, there's plenty to help you while away an evening.
Remember, too, that you're on the doorstep of mainland Europe. In less than three hours, traveling mostly along motorway, you can be in Seville, the orange capital of Spain. From Lisbon, you can travel by train to Paris, London, Brussels, Amsterdam, and beyond. Or, hop a plane out of Faro (reachable in one hour from most of the Algarve) for a long weekend in Milan, Zurich, Cologne…
Best of all, due to the continued weakness of the euro, the Algarve represents one of the best values in Europe right now. Despite being loaded up with all the trappings of the Old World, its prices are surprising. We're looking forward to introducing attendees at our Live and Invest in Portugal Conference to specific opportunities next July. But to give you a sample of the market, here are some recent Algarve property listings:
A three-bedroom, two-bath apartment with large balconies, 100 meters from the beach for US$130,000…
A one-bedroom apartment close to town and beaches for a mere
US$72,500…
One-bedroom cottages in a very popular area for as little as US$160,000…
A three-bedroom villa close to amenities, with a sea view, listed at US$240,000…
Tomorrow, we launch the details of our second Live and Invest in Portugal Conference to the full readership. Of course, as a Live and Invest Overseas Confidential reader, I want you to be first in line for the best-value seats in the house…
I sent you a note a few days ago with an early invitation to register. If you're interested in joining us and just haven't gotten around to reserving your place yet, I'd recommend you do so over the next 24 hours, before we extend the invitation to all readers. Getting in now, you'll qualify for a VIP seat at no extra charge. Use code PORTCONFIDENTIAL to claim your LIOS Confidential reader discount on top of the Early Bird discount.
I hope to meet you in this special place at the end of the Old World. It may well turn out to be the end of your search…
Valentine Fouché
Editor, Live and Invest Overseas Confidential
Tel. 1-888-627-8834 (toll-free in the United States)
Email: events@liveandinvestoverseas.com