Best Of The Caribbean (At Unheard-Of Prices)
The trouble with the Caribbean is that, if you've been to one island—or any stretch of its white-sand, turquoise-water-splashed coasts—you may feel like you've seen it all.
But not all Caribbean islands are equal. Beyond the powder sand, warm water, year-round sunshine, and relaxed pace of life that you'd expect from this part of the world, one island stands apart.
This island is not simply a place where you could kick back for a couple weeks' vacation… but a place where you'd be tempted to stick around longer… and could live an active lifestyle—from exploring its caves, waterfalls, and coral reefs to enjoying a cultural night out with your choice of jazz, opera, or ballet… a private wine-tasting at a local cellar… or even a live baseball game…
I'm talking about the Dominican Republic… which, right now, also represents the best bang for your buck in the Caribbean. No contest.
Here, you could own the beach house of your dreams for as little as US$250,000… or a smaller apartment, a stone's throw from the sand, for less than US$100,000.
And, you don't have to wait for the expat amenities to be brought in; they're already here. While Americans have only recently begun to appreciate what this country has to offer, Europeans have been spending their time and money here for decades. They've developed an infrastructure of services and amenities to support the lifestyle they want. Now all this infrastructure is available for you…
If you'd like to see this stand-out Caribbean haven for yourself, we'll be down there to welcome you this May 17–19 to our third annual Live and Invest in the Dominican Republic Conference.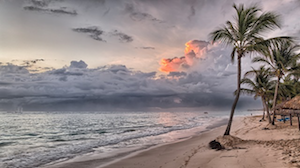 Escape to unspoiled, uncrowded Caribbean beaches
Based in capital Santo Domingo—the oldest settlement in the New World—we'll introduce you to the many charms of this city (with some attractive fixer-upper opportunities). But also, through our expert and expat presentations, we'll showcase our favorite beach community in this part of the world—Las Terrenas on the Samaná Peninsula…
In Las Terrenas, you can embrace the best of Caribbean living but also enjoy First World amenities and entertainment nearby, as well as an instant welcome by the large, diverse, and growing resident expat community (that's mostly European). Plus excellent medical care and the best property buys in the region.
Remarkably, this under-the-radar beach town is a place where a couple could live right near the beach on a budget of as little as US$1,155 a month. With a budget of US$2,000 or more, you could afford more nights out, extra help around the house… and truly live it up on the shores of the Caribbean…
The Dominican Republic is also among a dying breed of nations that continues to welcome retirees. If you can show a monthly income of US$1,500 a month (and an extra US$250 per dependent coming with you), you can qualify for temporary residency within 45 days and enjoy privileges like tax-free import of your household and car… 50% reduction on your property tax… tax-free receipt of your pension… and more.
And, if you invest a minimum of US$200,000 in the country (a property purchase qualifies), you can apply for DR citizenship within two years. A DR passport will allow you visa-free travel around most of the Caribbean and to Germany and Spain.
We can't keep the lid on this Caribbean treasure for much longer. As more mainstream publications catch on, more retirees and investors will come along, and prices will go up.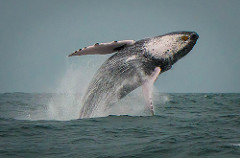 January through March, you can watch hundreds of humpback whales
from the shores of Samaná Bay
Photo credit: Jarkko Järvinen/Creative Commons
If you think this sounds like the kind of lifestyle you're after, then you owe it to yourself to visit the Dominican Republic ASAP and see this special place firsthand.
The best (and safest) way to try the DR on for size is to join us for our third Live and Invest in the Dominican Republic Conference this May 17–19.
In Santo Domingo, we'll bring the best of the country to you via our team of expats who'll share their personal stories (and the pros and cons of living and doing business here)… and you'll get up-to-date, practical information from our team of legal and tax specialists, real estate and rental agents, developers, and more, who can help guide you through your move.
Valentine Fouché
Editor, Live and Invest Overseas Confidential