9 Reasons To Pack Your Bags For The Dominican Republic
Just a little over five weeks from now, we'll be touching down in Santo Domingo for our second Live and Invest in the Dominican Republic.
If you're dreaming of the good life in the Caribbean, and you haven't grabbed your seat in Santo Domingo, this week is the time to do it—before our Early Bird Discount expires.
I've noticed the Dominican Republic popping up on a lot of hotlists these past few months. The Samaná Peninsula—our main lifestyle focus in the Dominican Republic—was among "Six Surprise Destinations" highlighted in The Huffington Post article. Meanwhile, Forbes included Playa Rincón (also on the Samaná Peninsula) on its list of best beaches in the Caribbean for 2016. The rest of the world is quickly catching on…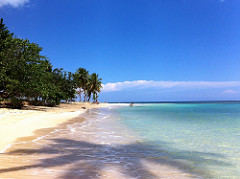 The Caribbean without the crowds (or high prices) Photo Credit: Antonio Castagna
Beaches are still the main draw for most visitors to the island. But, for someone with a longer-term stay in mind, here are 9 other things to love about the Dominican Republic:
1. Unbeatable weather. Here, you have summer temperatures and sunshine year-round (average temperatures are between 73 and 87 degrees), but, with the Caribbean breeze, it doesn't feel intensely hot.
2. Low cost of living. Forget your idea of Caribbean prices. You can live well here on just US$1,355 a month (including many luxuries that you would have to do without on this same budget back home). Weekly food shopping for two is about US$120—including grocery items and delicious fresh fish, fruit, and vegetables.
3. The best of nature. Apart from the white sand, swaying palms, and turquoise waters that we all expect from the Caribbean, the Dominican Republic is also home to lush forest, mountains, waterfalls, coral reef, as well as rare bird species… and it's a favorite stopping-off point for migrating humpback whales from January through March (they can often be seen from the shores of Samaná Bay).
4. Truly friendly people. The locals here aren't just welcoming of new people—they go out of their way to help. Around the town of Las Terrenas, you'll find many European expats that have been living there for decades… and a growing number of U.S. expats. Its strong community spirit is what entices people to stay.
5. High standard of health care (and cheaper health insurance). Expats in the DR highly rate the personal treatment they receive by medical professionals. We know one expat who's saving US$72,000 a year on his health bills thanks to free treatment at his hospital in Santo Domingo.
6. Cosmopolitan capital. Apart from the natural wonders of the Dominican Republic, you have the city of Santo Domingo at your disposal. The oldest settlement in the New World, it has plenty of history and culture, diverse dining options, entertainment, and shopping. (For our conference, we'll be staying at the Sheraton Santo Domingo—just minutes from the cobbled streets and Spanish colonial buildings of the Zona Colonial, a UNESCO World Heritage site.)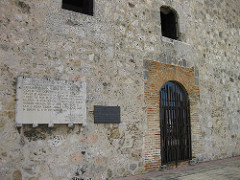 Museum in the Zona Colonial, Santo Domingo Photo credit: Richie Diesterheft
7. Easy, straightforward residency. Once you can prove a minimum monthly income of US$1,500 (plus US$250 for any additional dependants), you can qualify for provisional residency in as little as 45 days.
8. Generous tax breaks. Acquiring provisional residency immediately offers you many great tax benefits—including tax-free receipt of your pension income and a 50% reduction on your property tax. Of course, lowering your personal tax bill means you have more disposable income to enjoy your new Caribbean lifestyle.
9. Your dream home at a fraction the cost. It's hard to think of anywhere in the Caribbean that matches the opportunities here to build or buy your dream home—with stunning views, in an uncrowded location—at such unbeatable value. You can still buy an apartment for under US$100,000… while a villa at the beach can be yours from US$250,000.
And, there are plenty more benefits to the DR lifestyle that our expats are looking forward to sharing with attendees in Santo Domingo this May 18–20.
Over these three days, our team will walk you through everything you need to know to start a new life in this beautiful, welcoming country.
Save US$300 on your seat (before the Early Bird Discount expires this Friday, April 15) here, using Coupon Code: DRCONFIDENTIAL.
Should you have any questions, or need help with your booking, I'm standing by…
Valentine Fouché
Editor, Live and Invest Overseas Confidential
Tel. 1-888-627-8834 (toll-free in the United States)
Email: events@liveandinvestoverseas.com