Serial Expat Calls This Place "The Best Of The Best"…
You may know Lee Harrison as our Latin America Editor or as editor of Overseas Property Alert… but he also holds the position of "serial expat"…
Lee, who retired at 49, spent his early expat years in charming, affordable Ecuador before moving on to a beach lifestyle in Punta del Este, Uruguay. During these years, he and his wife Julie also enjoyed visits to their vacation homes in Granada, Nicaragua, and Fortaleza, Brazil. (Simply reducing their cost of living by retiring overseas meant they now had funds available to invest in more property.)
Traveling as a freelance writer and property scout, Lee spends weeks (even months) on the road every year moving mostly around Latin America on the hunt for new opportunity. So, when he defines a place as "the best of the best," it's time to sit up and take note.
On landing in Medellín, Colombia, some years back, Lee was seriously impressed. Like Ecuador and Uruguay, this had the the ideal climate he and Julie had become accustomed to (with no need for heating or air conditioning)… and much more…
"Medellín doesn't compare to anywhere in the Americas or Europe in terms of sophistication… and it comes at a tremendous value," says Lee. "It's also a good deal when compared with other parts of Colombia—mainy due to its former cartel days."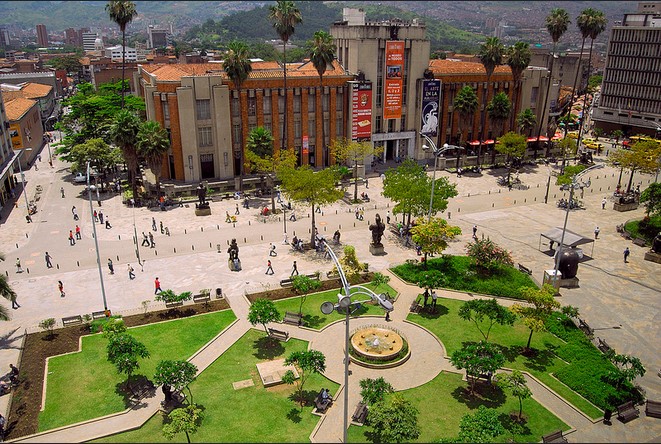 Medellín is a clean, green, walkable city
Compared with life in Ecuador, Medellín was more First World—with the same level of natural beauty that Ecuador holds… but less corruption.
Held up against Punta del Este, Uruguay, Medellín was less expensive and closer to the United States. The weather here was also better than in Brazil and without mosquitos.
Scouting neighborhoods around Medellín, Lee found El Poblado to be "the best of the best." This is the most upscale area of the city—the place that's in high demand among expats and other renters. Yet its prices come in significantly below other Colombian cities. In Cartagena, you'll pay about US$2,254 per square meter… in Bogotá, US$2,423… yet, here in sophisticated El Poblado, it's just US$1,317 a square meter.
El Poblado is where Lee and Julie bought their first apartment—a part-time residence/part-time rental. Since then, they've bought a second apartment in the city for pure investment. Buying in an area like El Poblado has resulted in 90% occupancy for Lee (during the time he's not using it himself) with yields of between 7.5% and 8.5% a year.
Lee will give attendees at our 2017 Live and Invest in Colombia Conference the full story this week on where to start your search in Medellín, what to expect throughout the purchase process, why you should apply for a residency permit as soon as possible (the Colombian process is the easiest path to residency he's ever had to deal with), and more…
Lee is the emcee for this once-a-year Colombia-focused event, kicking off in the San Fernando Plaza Hotel in Medellín this Wednesday.
He'll be joined by more than two-dozen local experts and expats, all convened with a single-minded objective: to introduce all those in attendance to all that Medellín and the rest of Colombia have to offer to the would-be retiree, expat, investor, and entrepreneur.
If you're not able to join us in person, you don't have to miss out. You can access everything we're discussing behind these closed doors through our Colombia Home Conference Kit.
This week, while the conference takes place, you can save more than 50% with our Special Pre-Release Discount Offer (including more than 30 audio recordings and slideshows, plus two bonus reports)—available until Tuesday, April 25 only.
Reserve your copy of this one-of-a-kind living and investing in Colombia resource here now.
Valentine Fouché