Phuket Charmed Me—But Is It For You?
I have to admit that I feel like a pretty well-traveled person… until I meet someone who has spent time in Asia. And then I instantly feel like an ignorant little kid again—so much I've never seen, so many countries and cultures so far away and out of my reach.
When I hear folks talk about their travels in the Orient, it seems that all of a sudden the world is ten times bigger than I thought… and I've seen but a couple small corners of it.
Since I was a research assistant on Kathleen's first book, I've had a fantasy of running off to Thailand. I spent months tracking down costs of living in Asia, and as a newly independent coed, the thought of spending US$200 for a house on the beach and few other costs besides was too tempting not to get me daydreaming.
The farthest east I've gotten is India when I was about 16. It was such an awakening experience, I'd call it visceral.
I hope to get back across the globe before too long. In the meantime, I have to make do with armchair travels… like to Phuket, which was recently covered by one of our correspondents for Overseas Living Letter.
Phuket, Thailand: Island Living In The Land Of Smiles
By Esther Milanzi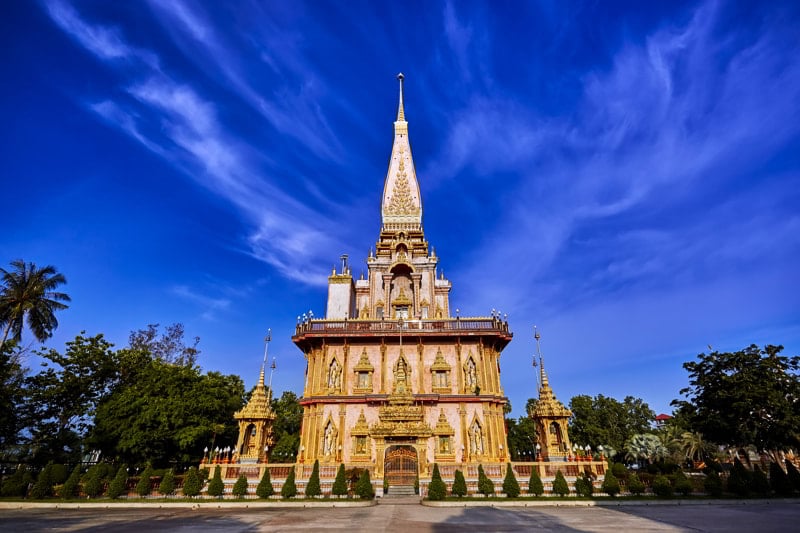 My husband and I lived in Thailand for three years. We spent more than half of that time avoiding Phuket, Thailand's famous jet-set destination.
It wasn't until the end of our last year that we went there. My husband's cousin was visiting Thailand for the first time and his girlfriend was going to be DJing at a local club.
We begrudgingly packed our bags and headed to the local van station in our small town, Surat Thani, strapping ourselves in for the three-hour journey to Phuket.
On arrival, we found what we were expecting: overpriced food, overcrowded beaches, a loud strip teeming with much wilder nightlife than we were used to in our sleepy local town…
But we also found things we weren't expecting: rich history and a quaint old town, for instance. It made us want to stick around and discover what other treasures we might find along the Andaman Sea…
Looking beyond the infamous nightlife and overpriced pad thai, you notice the rich colors of the old town's Sino-Portuguese architecture, the remnants of a town that built its wealth on tin mining, and the fishing villages of the once-nomadic Sea Gypsies.
It's true, there are reasons to avoid Phuket… But there are also reasons why so many people choose to call it home. Phuket offers a plethora of living options and lifestyle opportunities, with something for every taste.
Phuket has three distinct seasons: dry, hot, and rainy. The coolest, driest, and least-humid time of year is between December and March. The temperatures normally range from 75°F to 90°F.
People from all over the world come to Phuket for its high-quality medical facilities. Phuket International Hospital and Bangkok Hospital are staffed by English speakers and are well-known for medical tourism.
A couple could live comfortably in the quieter corners of the old town for about US$1,000 a month. If you're after a budget-friendly and more authentic Thai living experience, Phuket Town and Thalang are the top areas for you.
If you want to live in a more in-the-action locale, indulging in the island's luxury offerings and shopping at international grocery stores, you'll spend about US$2,800 a month as a couple.
After living in Thailand for three years, I was comfortable having basic conversations in Thai. I hired a local woman to meet me weekly to teach me basic vocabulary and help me practice my conversational skills. One of the great things about Phuket's popularity, though, is that you won't have trouble finding English speakers. Lots of locals, visitors, and expats speak English.
Phuket In The Balance
Pros:
Nightlife. The nightlife here is world-famous and people travel from all over to hit the clubs and beach bars…
Beaches. Be sure to check out my top 10, but there are also many more beaches to enjoy on the island…
Food. The variety of food in Phuket is unparalleled. Thai food is outstanding across the country, but in Phuket you can get a unique mix of cuisines because of its history. It was a stop on a well-traveled maritime route…
Airport. The hassles of taking a taxi, bus, ferry, or tuk tuk to get to the island are minimized if you fly directly into the international airport…
Entertainment. Even during the wet season, there are always plenty of activities to keep you busy in Phuket…
Shopping. You can shop at the big centers or pick up handicrafts at the markets…
Crime. Serious crime rates are very low…
Access to other islands and national parks. Because of its location, it's easy to do day trips all over the southern part of Thailand…
Cons:
Cost. Phuket is now one of the most expensive places in Southeast Asia…
Scams galore. Including but not limited to jet ski and motorbike damage schemes, ATM or debit card skimming, and tuk tuk and taxi rip-offs…
Accidents. Accidents are common in Phuket, including monsoon-season swimming accidents (please do not swim when you see a red flag on the beach), boating and motorbike accidents, and electrical shocks if you step in a puddle because of poor grounding of electrical systems…
Seedy tourism. Patong Beach is infamous for its sex trade industry…
Politics. Political disputes can negatively affect citizens and residents…
Other things to look out for. Pickpockets lurk in touristy areas of Patong, and involvement with drugs carries a heavy penalty—they should be avoided without fail.
Could Phuket Be Right For You?
If you're coming to Southeast Asia in the hopes of living on US$20 a day, Phuket isn't a good choice. The cost of living has increased considerably over the past decade, and it's no longer a cheap living destination by regional standards.
Phuket isn't a cosmopolitan destination, either. If you're after a city vibe with vast amenities and public transport options, this isn't the place for you…
Also, if you can't stand paperwork, you should reconsider coming to Phuket, and indeed, Thailand. This is a bureaucratic country, and you need permits for all kinds of things, even something as simple as entering a national park.
On the other hand, if you're OK with a loose conception of time and don't care too much about road rules, Phuket could be an interesting choice. It's a great place to spend a beach day, with idyllic sandy shores, watersports on offer, vibrant coral reefs offshore, and rolling green mountains all around…
But it's also a great place to spend a rainy day, with an architecturally interesting and historic old town to explore and world of culinary delights to discover, from Thai to Malay, Chinese to European.
If you want high-quality health care and a well-established expat community at hand and love a tropical climate with great beaches and stunning sunsets, Phuket could be for you.
* * *
Big news today, dear reader…
We've just opened the doors on registration for our first-ever Live and Invest in Asia Virtual Conference… and, of course, Thailand will be one of the top havens we'll explore—from its sandy beaches to its colonial hill towns…
To get the best deal on your seat, be sure to sign up now to qualify for the Early Bird Discount…
And, as an LIOS Confidential reader, you save an extra US$50 off with your exclusive Coupon Code ASIA50…
We'll talk more about Asia's top retirement spots in the coming weeks, but for now…
Go over here for all the details.
Kat Kalashian
Editor, Live and Invest Overseas Confidential