A Land Of Adventure, Promise, And Quirky Placenames
My first memory of travel is of my visit to Belize at about 5 years old. I had been out of the country just once before, and this visit to Belize was to be the first trip that imprinted itself on my memory.
The snapshots are vague and blurry… like those faded, gold-tinged slideshow reels from a movie reminiscing within itself. My mother, her work colleague, his dreamy tween son with whom I was instantly smitten…
And the beach…
The beach in front of a hotel-like building that ran the length of the coconut-littered white sand. I remember lots of natural debris on the beach… this wasn't a place where people were paid to keep the sand pristine. In fact, I don't remember any other people on the beach besides us at all…
Those coconuts I mentioned are lodged firmly within this memory, and with good reason. The local handicraft was to take a shaggy coconut, glue a bandana to the top, a plastic ring to the side, carve out a mouth and eyes, and sell them as pirate heads. These seeming shrunken heads ignited my imagination… I envisioned them as the remnants of great sea battles… I thought of "Robinson Crusoe" and "Treasure Island."
Where there be pirates, there be adventure and promise. And there sure be pirates in Belize.
In fact, though, I don't know that the building in this memory actually was a hotel. And, if it was, I don't know if it was the one we were staying at. I just remember the beach in front of it.
And I think that's a pretty accurate memory of Belize.
What Belize Is All About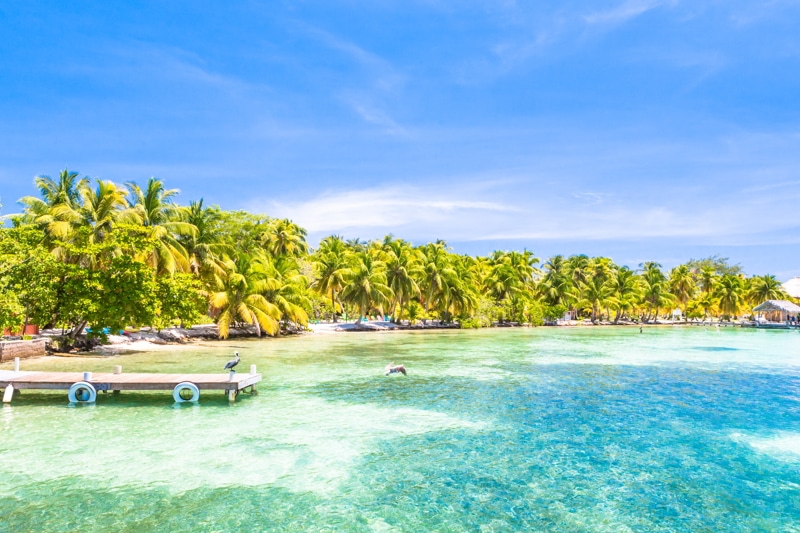 If one thing is going to stick with you, it's the coastline and all its various fruits.
Belize's waters are home to the longest barrier reef in the Western Hemisphere. The diving, snorkeling, and fishing here are some of the best in the world. The famous Great Blue Hole, a marine sinkhole that was given UNESCO World Heritage Site status back in 1996 …which, incidentally, was just after I made my first visit to this Caribbean nation… is visitable either by water or by air.
Most leisure time in Belize is spent in, on, or near the water. Boating is a mainstay of life, and water taxis are the main mode of transport around the cayes. Even if you're inland, hours from the coast, water remains an important part of life. The Belize River runs through the country and is a backbone of the community at every stretch. The river systems are so rich that they continue strong even underground, and at certain points you can access them through ancient caves. Grab an inner tube and jump into the stream and you'll be carried through the caves before being spit back out into the daylight. Cave-tubing, a quintessentially Belizean pastime, also offers glimpses of ancient artifacts as you pass through the rock.
It took me a good while to get back to Belize after that first trip… I didn't return until my early 20s when I went to help with one of our Live and Invest in Belize conferences. After the event, Lief and I did some real estate scouting.
We went out to Carmelita Gardens in the Cayo District. We happened to be there for a ground-breaking ceremony for one of the new houses going up. This self-sufficient community uses nature to its advantage when building, and many of the residents are fully or partially off-the-grid. They sacrifice no creature comforts, though, so there's air conditioning and plenty of Wi-Fi and electricity for those who want it.
A few days later we flew over to Ambergris Caye, taking the puddle-hopper flight from Belmopan. A couple hours later, we were trekking from the airport all the way up the island to our hotel. We decided to forego the golf-cart taxi in favor of walking. It had been a while since Lief had been on Ambergris, and he wanted to see if downtown had changed at all… it hadn't.
Here we met some associates who own Crazy Canucks, the little Canadian beach bar where we convened that evening. The talk of the day was the big, new, name-brand hotel that was possibly… maybe… if we were lucky… coming to the island. Back then, the idea was a gleam in the eye of developers in Belize, but today the Marriot that has since opened is the mainstay for accommodation and events in this part of Belize.
As the saying goes, no news is good news from Belize. The Marriot coming to town may have been the only real news the country has had in decades…
Perhaps what I find to be the most fun and entertaining thing about Belize is the names it gives… the names of its highways, rivers, towns, etc., range from quirky to laughable to inspiring. The lighthearted and playful irreverence with which they endow a place with a name is so authentic and charming to me. Pomp and circumstance be damned, Belizeans say, we call a place what it should be called.
Some towns draw on history for their naming legacy: Bullet Tree, Spanish Lookout, Lord's Bank, which is right next to Ladyville.
Some draw on their aesthetics or natural characteristics: Crooked Tree, Silk Grass, Orange Walk, Roaring Creek.
Some are obvious Anglo imports from one continent or another: Teakettle, Ontario Village.
And some are pure Belize, which is to say joyous, simple, and beautiful…
With town names like Mount Hope, More Tomorrow, Unitedville, and Valley of Peace, how could you be anything but optimistic about a new life in Belize?
If you'd like to explore your options in this charming, safe haven, I have great news…
The 2021 Live and Invest in Belize Virtual Conference
We've officially opened up registration to our 2021 Live and Invest in Belize Virtual Conference, taking place Feb. 17–19…
This is your chance to hear from all our top Belize experts and expats… and have every one of your Belize questions answered by people who know from firsthand experience what they're talking about.
Our team will cover issues like…
Is the government stable?…
What are the benefits of the QRP residency program? What's required to qualify?…
What would life really be like here on Ambergris Caye… on the mainland coast… or in the mountainous Cayo district?…
Is there a developed expat community to look to for support?…
What's required to open a bank account?…
What are the options for medical care?…
Where does it make sense today to buy for investment?…
How much to build a home?…
Where are the best beaches in the country?…
Can I really get the things I need? I mean… how would I live without Walmart and Home Depot?…
No matter your situation, our experts will have the answers and be happy to help you… and take all the hard work away.
All you need to do is make the decision to join us.
Head here now for full details.
Kat Kalashian
Editor, Live and Invest Overseas Confidential