Silvia's Story—From Empty-Nester To Relentless Nomad
Silvia Hagge, originally from Argentina, was bitten by the wanderlust bug at the precocious age of 13. She organized her early life around travel—her only goal was to see the world.
When she started a family, though, they all settled down in Singapore… where she stayed for 25 years.
When she found herself a solo empty-nester in 2018, Silvia decided to pull the rip cord and cut loose. So, she formulated a plan to keep herself traveling and busy year-round.
I found Silvia's story so inspiring and motivational, that I sat down to interview her.
Here's What She Told Me…
"In Argentina, back when I was a kid, people didn't care for travel. They didn't think about the foreign at all—no one I knew even had a passport. I was unusual.
"At 17, I decided to do a cultural exchange to a small town in Ohio to learn English. It may not seem exotic, but it was enough to cement my passion for seeing other cultures. From then on, all I planned in life was to make money to save for travel.
"After a few years, I had enough money for a one-way ticket to Europe. I ended up staying nine months in Europe, hopping all over on a Eurail pass and staying with families that would take me in—roughly 23 homes!
"I decided to go back to Argentina for university, but all I thought about was leaving again.
"I was lucky enough to land a job on an Argentine airline after graduating. It was a dream job—I got to travel every day, I got a month vacation every year, and I got discounted tickets.
"That was also when I met my future husband, a Frenchman… and we began to adventure together.
"From there I moved to British Airlines, which was a big step up in the airline world. Now I was traveling internationally, not just regionally, and I was doing a lot more of it.
"Then my banker husband got an offer to work in Singapore…
Setting In Singapore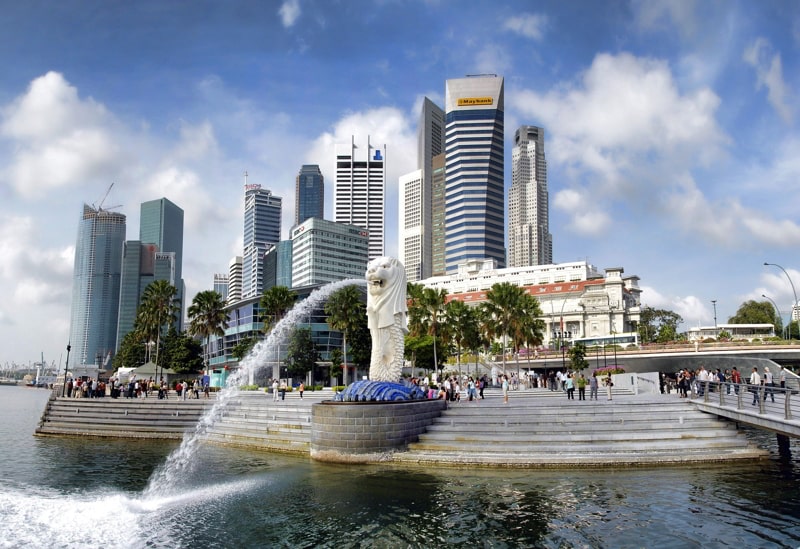 "That was in 1996, and it was where we built our life. We had three children, and we saw all of Asia together, and, of course, returned to France and Argentina every year to see family.
"Singapore was an amazing place to raise a family—it's safe, we had tons of household help, including a cook and maids, plus a huge house… life was easy.
"Once the kids were a bit older, I decided to get back to work. I started a business importing Argentine clothes to sell in Singapore.
"In 2012, I began to get restless, so I started traveling on my own again. By then, my husband and I had parted ways. Having your marriage fall apart is never an easy thing—it was devastating… but it was also liberating. All of a sudden I was free to do anything again—just like back in my early 20s.
"I had to wait another five years in Singapore until my youngest would graduate, but I knew as soon as I had the last little chick out of the nest, I was going to go a little crazy with travel.
"And I did.
Becoming A Nomad As A Single Woman
"I decided that I wouldn't grow roots again anytime soon. I picked my favorite places to spend time, and I planned out my year following the best of the seasons in my favorite destinations.
"After seeing Ohio, I never wanted anything like that kind of cold in my life again! So, I decided to spend winters in Argentina (where seasons are reversed, so it's summer). Then I'd pop over to Paris for a couple months to take care of administration. Then by April I'd be in Japan for the cherry blossoms… May in China… and then exploring Europe, Russia, or the Balkans during the summer.
"I also decided to buy a pied-a-terre in Paris at that time. I knew I would always have to come back to Paris, and it served as the best geographical base between Argentina and Asia, where I knew I'd be spending at least half the year. I'd rent it out to make money when I wasn't in town, and always have my own place to come home to when I was. I wouldn't ever be there for more than a couple months, I thought.
"That was late 2018… and we all know what happened in 2019. I was lucky to have bought the apartment, because I ended up being stuck here in Paris for the last two years due to COVID. I managed to do about a half cycle of my yearly plan before I got locked down here…
"The key to this whole idea for me was not just to travel, but to have something to keep me busy wherever I went, so I launched a couple of personal projects… ideas I had in my head long before I had the time or freedom to pursue them.
"My grand renaissance plan for my empty nest years has been postponed… but I'll put it into action for 2022. There's a chance things will open up enough for me to risk it later this year, but I'll have to just wait and see… along with the rest of the world!
What Traveling As A Single Woman Is Like
"I've been asked if this nomadic style of travel gets lonely…
"I will say that the first trip I took to Taiwan by myself was a little depressing at first… But, honestly, after a couple of days, I was relishing the solitude. After being head of a family for 25 years, having no one else to think about is a fantastic feeling.
"The other half of this equation is making friends wherever you go, so that whenever you return you already know someone there. At this point, I've got friends all over, and I check in with them whenever I'm in the region. All it takes is establishing one connection, it will always lead to more.
"I've never felt uncomfortable traveling alone as a single woman of a certain age, and I think it's something more women should have the confidence to do. It's a truly awakening experience…"
Like Silvia, my little family has a checklist of adventures we hope to start checking off over the coming year…
And, of course, I'm looking forward to LIOS events when we can all meet in person again. That's where we all find our motivation… and can even make new friends and connections on the ground before a big, life-changing move…
In the meantime, we're doing the best we can in the online world… through our virtual and interactive events… helping to match you with your potential paradise… and introduce you to your network of helpers on the ground…
Next up on the calendar is our first-ever Live and Invest in Asia Virtual Conference.
Just as Silvia found in Singapore, Asia presents you with plenty of options to live a luxury lifestyle (including a cook and a maid) at an affordable price…
Right now, you could live at the beach for as little as US$942 a month…
We'll give you the whole scoop next month…
Meantime, you can go here to book your virtual seat. (Remember to enter your exclusive Coupon Code ASIA50 to save US$50 off.)
Kat Kalashian
Editor, Live and Invest Overseas Confidential