A Tropical Christmas In Belize
If you decide to move overseas, you're likely to spend a few holidays in your new home eventually. Of course, it's nice to go "back home" and visit the family at this special time of year, but give the holidays in your new home a chance, too. You're sure to be pleasantly surprised at the exotic customs and unfamiliar traditions that come with holidays outside the States, and you're likely to adopt some of your favorites even when you're not there.
France introduced me to the wonderful tradition of eating oysters at Christmas time. They're off the menu for me this year, but I love that you can order oysters all over the city in December and that they are a common dish served at the French Christmas dinner table.
Thinking back to my childhood Christmases in the States, one of my favorite and seemingly unique experiences was centered around Annapolis, Maryland—seafaring capital of the country and home of the Naval Academy. My dad's side of the family was big into boats, and much of the holiday season was spent on the Chesapeake Bay, where boaters dressed their crafts—whether big or small—to the Christmas nines. The annual boat parade allowed them all to show off their hard work… some had simply strung lights all along, but others could have competed with the Macy's floats. I still remember one boat that had a full Santa sleigh in lights, complete will all 12 reindeer. Gliding along the water, it looked like the sleigh was coming in for a water landing as it passed.
I always thought this boat parade was particular to Annapolis, but it turns out that Belize's Ambergris Caye also hosts an annual Holiday boat parade. It's a smaller affair than Annapolis', but no less impressive in terms of the work these boaters put into their décor.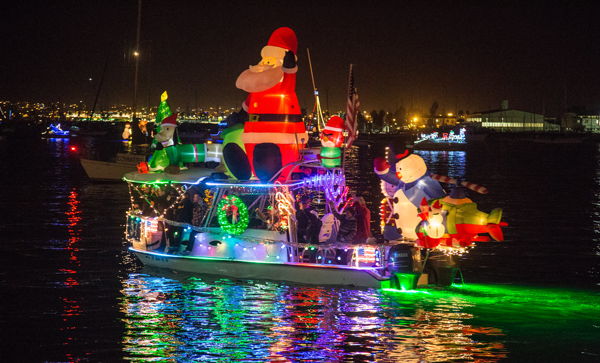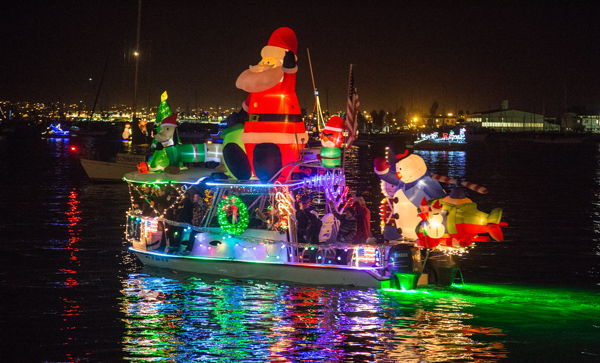 The parade lasts a couple of hours and when all have gotten a chance to show off their holiday best, cash prizes are awarded for the 1st, 2nd and 3rd place boats.
An upside of this taking place in the tropics: No need to bundle up to enjoy the show—don your bathing suit if you'd like, the 80-degree forecast for the day requires no dress code.
What else do Belizeans get up to this time of year? There's no shortage of fun pastimes for the season. Even with the various religions practiced and mixed cultures throughout Belize, the holiday season brings community members together…
Tree Lightings And Festive Trimmings
Traditionally, the Christmas celebrations in San Pedro town on Ambergris Caye commence on the first Sunday of December with the tree lighting at Central Park. After the lighting, local schools start playing Christmas tunes, perform dances to traditional holiday music, and a firework show lights up the night.
There are no large chain stores here to make holiday décor shopping an easy, one-stop experience, but that doesn't stop anyone from getting creative with makeshift decorations all over the country, which begins dressing itself festively for the season well before the first weekend of December.
In Corozal, the tree lighting takes place on the first Saturday of the month to the sound of carols played over stereos and attended by dozens of residents donning Santa hats. The tall tree is the centerpiece of Corozal's central park each year, accompanied by giant ornaments that punctuate the park as well as local vendors selling perfect gift items.
The town's businesses and organizations all try to outdo one another in decorations here, and groups of people will walk through town singing carols and holding candles, spreading joy wherever they wander.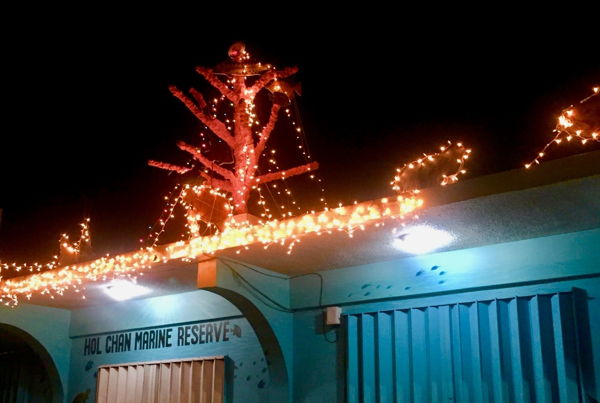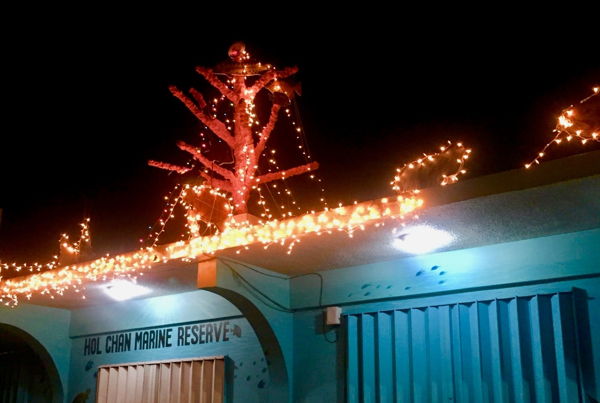 Holiday Market At The Truck Stop
Local vendors from around Belize make their way to the Truck Stop in San Pedro for an afternoon craft fair, tree lighting, and photos with Santa. Located only one mile north of the bridge, this trendy food and beer garden attracts locals and visitors with movie nights, Thursday trivia, themed events, and incredible bayside sunsets.
LoveFM's Annual Christmas Parade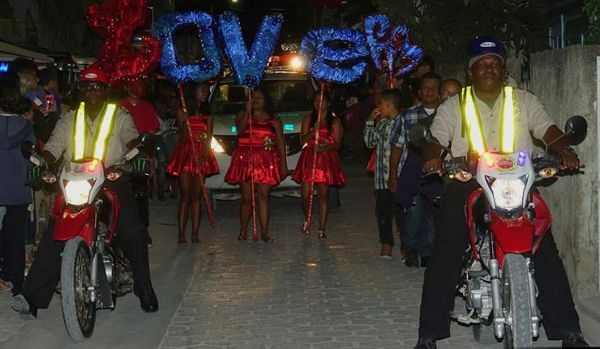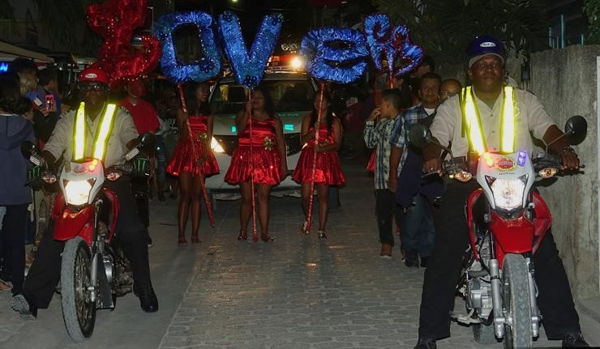 LoveFM spreads Christmas cheer to the people of San Pedro during its annual evening holiday parade. Brightly lit floats and participants in festive holiday costumes make their way through the streets of San Pedro, with bystanders catching candy and cheering on their friends and family.
Midnight Mass
With Catholicism prevalent in Belize, the tradition of Midnight Mass is a favorite annual event to kick off Christmas Day each year.
The Bram And Brokdong
A uniquely Kriol Christmas tradition, the bram is a dancing spree for everyone in the country. The population takes to the streets and parades from house to house spreading holiday cheer by singing, making music, and boogieing in honor of the season. In rural Belize, the two-day Christmas holiday is synonymous with the bram festivities. The Gales Point Manatee bram is reportedly the best example of a traditional bram today.
Brokdong is the traditional Kriol music that accompanies the bram. It's explained that brokdong can occur without the bram, but the bram cannot occur without brokdong. This Caribbean-style music is typically made with forks, graters, a two-sided drum called a goombay, banjo, harmonica, accordion, a quijada (the jawbone of a donkey), a shakka gourd (like a maraca, anything that rattles can be used)… and just about anything else that makes noise.
The lyrics of brokdong music are usually narrative, often reciting histories, legends, and satire and are always in Kriol.
While brokdong music is less popular with the youth these days, the over-40 crowd in Belize still love to jam to this rhythmic, infectious music.
Boxing Day
Adopted from the British, Belize recognizes Boxing Day, historically known as St. Stephen's Day, as a national holiday. This holiday is dedicated to giving back to the less fortunate through monetary donations or practical gifts.
Post-Christmas
Even after Christmas, the celebrations continued through to the New Year. Some of the most attended events included the New Year's celebration at Crazy Canuck's Beach Bar and the San Pedro Town Council-sponsored party at Central Park.
Traditionally, decorations are taken down on the Día de los Reyes Magos (Day of the Wise Men) on Jan. 6. That is rarely the case, though, and decorations often linger well into the beginning of February.
Holiday Fundraisers
In addition to the fun and festive activities, a handful of community fundraisers are held to support those in need throughout the country each year. With the help of local businesses and organizations, a number of children, who may not have otherwise, will wake up to find a gift under the tree.
In 2018, Rotaract implemented the Merry Box program, encouraging businesses and their customers to commit to filling at least one box of non-perishable items to donate to the San Pedro Food Bank & Colleen's Kitchen, which serve hot meals twice a week to the needy families of San Pedro.
In 2018, Living Word Church hosted an enormous toy drive for the local tots. Through their toy distribution, which took place a few days before Christmas, they presented over 1,000 children, who otherwise may not have been visited by Santa, with brand-new toys.
Meaningful contributions and efforts like these really define the meaning of the holidays in Belize. To see communities come together, no matter how little or how much they may have been able to give, speaks volumes about the caring and integrity of the people of this little country.
We have everything you need to know to live, retire, or invest in Belize…
If you are ready to explore the opportunities for living, retiring, investing and doing business in this affordable, English-speaking Caribbean Haven… our Live and Invest in Belize Home Conference Kit is the most comprehensive Belize resource out there and includes the all-new bundle of expert presentation recordings from our recent Live and Invest in Belize Conference.
That's a total of 29 presentations detailing…
The best way to get the best deal on a rental or purchase…
Your best options for health insurance in this country…
How to open a bank account, for yourself or your business…
The top residency visa options… and how to obtain them…
Several itemized budgets for day to day living, for those with budgets big and small….
Terms for borrowing locally for the purchase of real estate…
Real-life tales of success from expats already living and doing business in this top emerging retirement and investment haven…
And much, much more…
Click here to get started right away.
Kat Kalashian